2019 has been an incredible year for women's football. In accepting the Golden Ball for being the best player at the 2019 Women's World Cup at the Best Fifa Football Awards in Milan this week, Megan Rapinoe, 34, said "I ask everyone here, lend your platform to other people, share your success.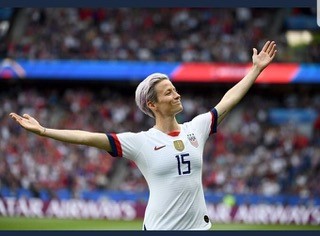 We have a unique opportunity to use this game to actually change the world for better. I hope you take that to heart, do something, we have incredible power in this room." My focus this month is to profile the amazing contribution of women in sport with a bias towards Australian women given my home in Sydney. I conclude with a catch-up of my activities since January, including my overseas and family commitments.
Recently I was asked why my newsletters and blogs are female-focused. It is a simple explanation: because in almost every part of society, women and girls are not recognized in the way that men and boys are. They are increasingly outnumbered by men the higher up the leadership chain they go, regardless of how wide the female talent pool is at the graduate or elite sport level. We often do not recognize the role models and the talented women who are there but are not getting heard or recognized, particularly in sport. The overwhelming absence of women's and Indigenous Australian's sporting achievements demonstrates how particular athletes and sports are valued: 'You can't be what you can't see'. I gave speeches and wrote articles on women in sport in the 1980s, after counting the few times women's sports were reported in newspapers. Four decades later little has changed in the print media. In Australia there are now over 100 male journalists reporting on football alone which is one reason why newspapers are saturated with men's events.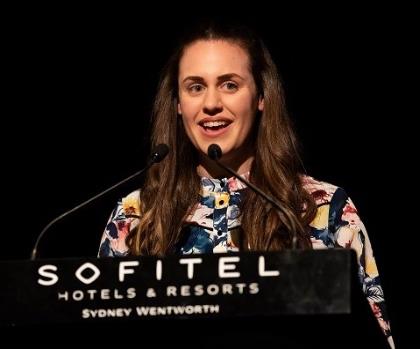 One of our outstanding female sports journalists is Mary Konstan-topoulos, advocate for women in sport, founder of online sporting blog Ladies Who League, and host of two podcasts with ABC Grandstand. Mary has just won Women Agenda's Emerging Leader in Sport Award. She is the definition of a trailblazer, agitating widespread change across all sporting codes and her personal passion to propel female athletes and women's sport is exceptional.
Women in Sport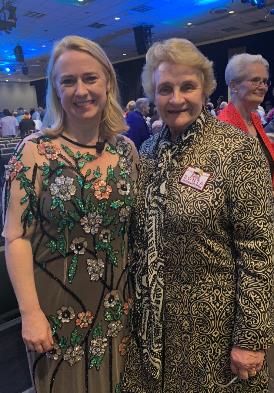 I chose sport because I began writing this at the Zonta Australia and New Zealand Centennial Anniversary Conference in Brisbane where I  heard an amazing speech given by Dame Therese Walsh DNZM a chief executive and business leader from New Zealand. In 2003 Walsh began work for the NZ Rugby Union as general manager of corporate services and later as chief financial officer. She was then appointed to the team that worked on the winning bid to host the 2011 Rugby World Cup in NZ. Following her success with rugby, Walsh became a Director of NZ Cricket. She was the head of NZ's 2015 Cricket World Cup campaign and successfully negotiated for NZ to host a significant number of the games and events including a semi-final held in Auckland and the opening ceremony held in Christchurch. In 2015 Walsh was appointed a Dame Companion of the NZ Order of Merit for services to sports administration. Her amusing Zonta speech was punctuated with photos including of her as a 'short' girl, first with her three older brothers and then with both the male rugby and cricket teams.
Athletics. At 103, Julia Hawkins is still living up to her nickname the 'Hurricane.' At the 2019 Senior Games in Albuquerque, New Mexico this month, she won gold medals in both the 50-meter dash and the 100-meter dash in the women's 100-plus division. At the 2017 games,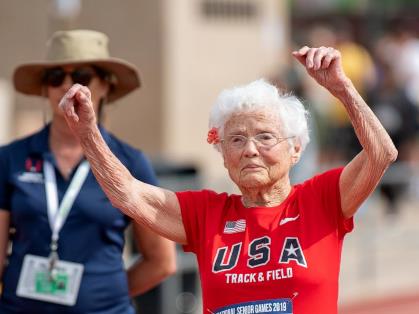 Hawkins set a world record with her 100-meter dash. She is a mother of four, grandmother of three and great-grandmother of three who picked up competitive cycling later in life, winning multiple national titles. She turned to running at age 100 when biking on mountainous courses became too challenging for her. According to the National Senior Games Association, the non-profit organization that runs the Senior Games, Hawkins is the oldest woman to compete on an American track. "When you're 103, every day is a miracle," she said. "I just keep getting up and I'm here again.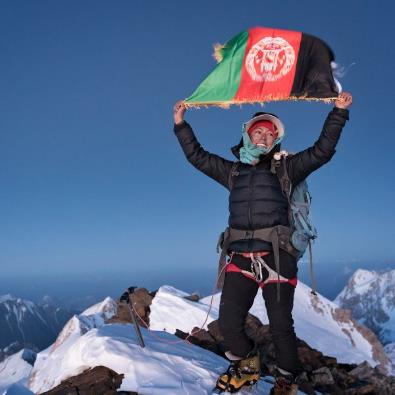 Climbing. Like many Afghan women, Hanifa Yousoufi had always been made to believe, growing up, that she should not go to school or play sport. Yet the 24-year-old has become the first Afghan woman to climb to the summit of Afghanistan's highest mountain, Mount Noshaq. Yousoufi suffered frostbite in one of her toes and altitude sickness during the expedition. She said, "I was nervous during the climb because of the fighting so close by…I was so tired and didn't think I would be able to make it down. But I was so determined." For Yousoufi, the trek was as much about striking a blow for gender equality in a society dominated by men as it was about scaling the second highest mountain in the Hindu Kush. "I kept telling myself that finally this was the moment an Afghan girl was going to make it to the top…I did this for every single girl. The girls of Afghanistan are strong and will continue to be strong."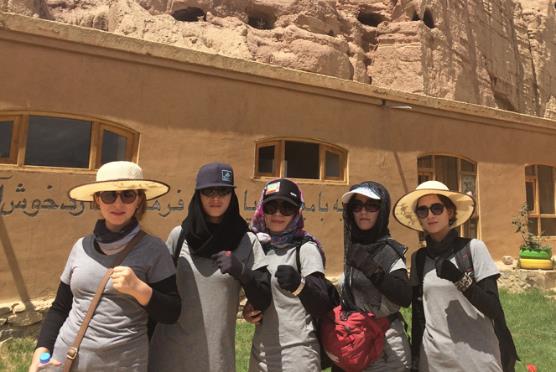 Yousoufi is part of The Ascend Afghanistan program for 70 women, founded in 2015 by Marina LeGree who had previously worked for development organisations in Afghanistan for several years and was employed by NATO at the height of the war. The women have found new confidence and pride. LeGree explains that witnessing the relentlessly disparaging way in which Afghan women are treated by men was the impetus for the program that targets empowerment through mountaineering and leadership training. "At the time I was developing the idea for the program, I was living in Kabul and would often go and play basketball with the Afghan women's basketball team. They faced danger getting to and from the gym because of the civil unrest, were ridiculed by all the boys, and then had to deal with comments about what they looked like from the security guards. "This is symbolic of what women face every day in Afghanistan; ridicule and constant harassment, but always expected to deliver. It made me want to help them do things that most men couldn't do." Climbing in Afghanistan is risky, not just because of the dangers involved but because active insurgency is still a constant threat.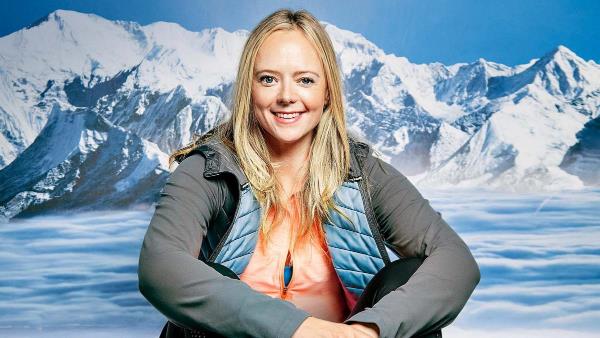 Polar Expeditions. British lawyer and extreme endurance athlete Jenny Davis set her sights on the South Pole with a bid to smash the record for the fastest solo expedition to the pole by a woman. She undertook the 715-mile expedition completely unsupported and unassisted, hauling with her an 80kg sled containing everything she would need during the month-long journey. Davis's attempt began after she climbed Mount Vinson in Antarctica as an early honeymoon with her fiancé. She has raised money and awareness for Women in Sport and Children in Need. The challenge is being used as a chance to generate new data for ground-breaking research, with Davis teaming up with the University of Coventry to help study behaviour and perception under extreme conditions of isolation and environment. She is a Polar Ambassador to the United Kingdom (UK) on behalf of STEM Learning and has visited schools across the country to deliver the Polar Explorer program.
Cricket. Australian female cricketers who played their first match at the Sydney Cricket Ground in 1886 were left out of the history books. The match was so unusual it quickly sparked concern. The two sides were made up of players with the prestigious Gregory surname — but when Helen (known as Nellie), Louisa (back row, fourth from left in photo), Alice and Gertrude stepped out onto the pitch, the outrage was swift. Their father was curator at the Sydney Cricket Ground, their uncle, David, was a former captain of Australia's first cricket test against England, and Syd Gregory, the women's brother, was a celebrated fielder who played a record 58 test matches between 1890 and 1912. Not content with sitting on the sidelines, the Gregory sisters took the unusual step of turning their passion into an organised sport. Early criticism of women's cricket described it variously as "horrible", "positively dangerous" and "You might see a flash of women's legs in public." Bruce Chapman, Louisa's great-grandson, said he was happy the role his female ancestors played in founding women's cricket was being recognized. He said, " I think it's fabulous… A lot was known about the male Gregorys, but I always thought that probably the most interesting story was about the Gregory sisters… It's always typical that men get all the attention, but women's cricket was alive and well then".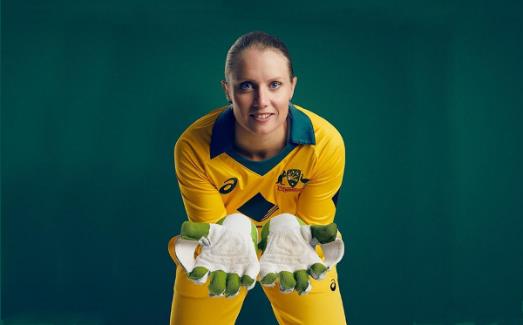 Alyssa Healy, Australia' star wicketkeeper who plays for the Australian women's national team and New South Wales in domestic cricket was officially crowned Australia's best cricketer for the past 12 months at the Australian Cricket Awards, finishing with a trifecta of honours: the One Day International Player of the Year, Twenty 20 International Player of the Year and the Belinda Clark award. Under the system that factors in votes from players, team officials, media and umpires the 28-year-old totalled 128 votes to win the award by a massive margin, ahead of spearhead Megan Schutt with 81 votes, while Ashleigh Gardner (71) and Ellyse Perry (60) finished third and fourth respectively. Healy has been forging a reputation as one of the game's most damaging openers. She struck 329 runs at 54.83 to cement her place at the top of the one-day order. In 16 innings she hit 578 runs at 41.29 –striking at a rate of 145.96 – including six half-centuries. Both the men's and the women's Australian teams retained the Ashes this year.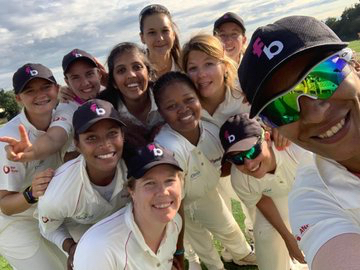 I am an ambassador for FairBreak Global that is about equality and opportunity, the concept of a 'fair go for all' and the purity of sport. Our second UK tour was a wonderful week of cricket for 14 players from 10 countries, including six past and present national captains. Coach Khyati Gulani from Delhi, manager Saba Nasim from the UK, and senior players Sana Mir (Pakistan) and Alex Blackwell (Australia) challenged the team to play with consistency across all four games. There were excellent 'player of the match' performances on field from Sterre Kalis (Netherlands), Shameelah Mosweu (Botswana), Akanksha Kohli (India) and Ryana Macdonald-Gay (England). Mariko Hill (Hong Kong) continued to develop her captaincy skills in the 40-over game against a Kent Invitational XI. A highlight for everyone was the opportunity to again play at Wormsley.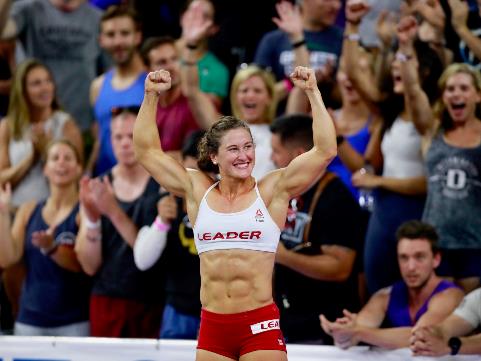 CrossFit Games. Australian athlete Tia-Clair Toomey has been crowned 'the fittest woman on earth' for the third consecutive year, crushing her competition at the World CrossFit Games in the United States of America (USA). Toomey, an Olympic weightlifter, amassed a huge 1071 points after five days of competition, 195 points clear of her nearest rival in Norway's Kristin Holte. Her dominating performance stunned commentators, who dubbed the Queenslander a 'beast' of a competitor. This year, many of the Icelandic women were exposed for having holes in their game, but when it came to Toomey, it seemed there is no mountain she cannot climb and no event she will not dominate. CrossFit Games events test a broad range of high-intensity movements including gymnastics, powerlifting, running and rowing. Toomey is known to deadlift 178kg, back-squat 150kg, clean-and-jerk 111kg and snatch 87kg. After her victory, she paid tribute to her team, family and supporters. "It's pretty surreal but it definitely wouldn't have been manageable without all you guys, so thank you very much," she said.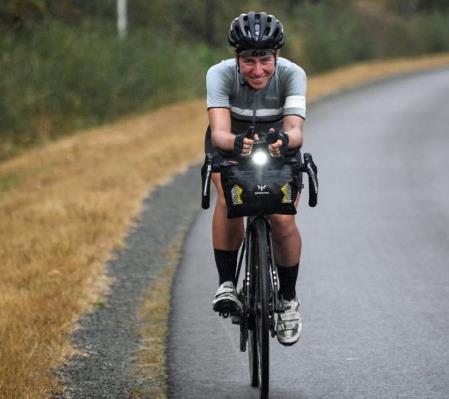 Cycling. For the first time ever, a woman has won the Trans-continental Race, stretching for more than 4,000km across Europe, through Austria, Bulgaria, Bosnia, Croatia, France, Italy, Kosovo, Serbia, Slovenia and Switzerland. Germany's Fiona Kolbinger beat 200 men to take the title in one of cycling's most gruelling events. She completed the Race in ten days, two hours and 48 minutes, ten hours ahead of her nearest male competitor. Fiona was on the bike between 15 and 17 hours a day from the start of the race averaging just four hours of sleep per day, resting on the side of the road in a sleeping bag. A 24-year-old cancer researcher, she was one of just 40 women of the 265-riders. The runner-up, Britain's Ben Davies, finished more than 10 hours behind her. Despite this, Kolbinger said she could have "gone harder". "I could have slept less," she said. "I am so, so surprised to win. When I was coming into the race, I thought that maybe I could go for the women's podium, but I never thought I could win the whole race."
Football. World Rugby has declared it will adopt a policy of gender neutrality for their World Cup tournaments from 2021 onward in a ground-breaking first for a major sporting federation. This means that the women's world cup competition will now simply be referred to as the Rugby World Cup, with the women's designation dropped from the title.  The men's competition will continue to fall under this same name. The decision to drop genders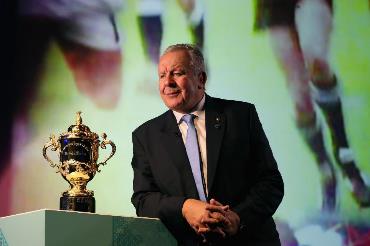 from the competition titles marks a commitment by the sport to elevate the profile of the women's game and from a branding perspective the women's game will receive an equal billing. World Rugby hopes the move will also be helpful in eliminating any unintentional gender bias. World Rugby chairman Bill Beaumont said the change demonstrates an ongoing commitment to advancing women's rugby. World Rugby Women's Advisory Committee Chair Serge Simon said: "Together, we are working hard to do something very special for women, for the game."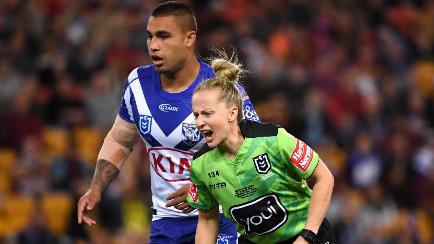 In Australia, Belinda Sharpe is the National Rugby League's (NRL) first female referee – a breakthrough for the NRL, which has not seen a woman in control of a game in its 111-year history. She was promoted to the NRL's full-time referee squad earlier in 2019 along with fellow female referee Kasey Badger. Sharpe is a familiar face on the NRL sidelines, where she has been a touch judge since 2014. In 2015 she started refereeing Queensland Cup matches and in 2017 she was a touch judge at four Tests during the World Cup. The 31-year-old took on her first top-grade game alongside one of the NRL's most experienced referees, Ben Cummins. Sharpe has been rising through the officiating ranks for a number of years noting that it takes a long time for any refereeing official to break through to the top level and that she has worked hard to achieve it. She said, "In a sense, I'm fulfilling my dream…I've been refereeing for 12 or 13 years now, so it's been a long time."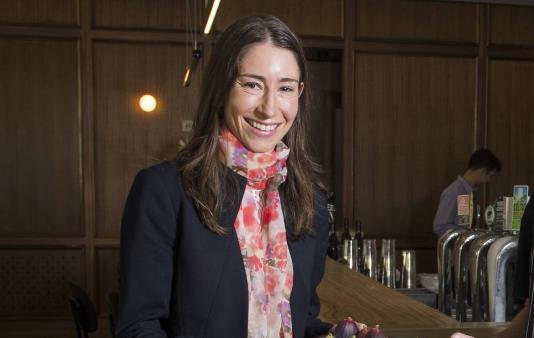 New Capital Football board member Jodie Newall says gender diversity is crucial to the sport's development as Canberra considers joining Australia's bid for the 2023 Women's World Cup. Newall's appointment comes after the federation's board reviewed its structure and invited expressions of interest from women who possessed the qualifications and experience for an appointed director role. Newall has university qualifications in law and commerce, as well as volunteering experience in the equestrian world. Capital Football, with three women of seven members, will meet the Australian Capital Territory Government's commitment to have 40 percent female presentation on government-funded sporting organisation boards by 2020. She joins chair Fran Sankey and former Canberra United player Grace Gill, who was elected earlier this year. Newall says, "If it takes quotas or goals to get role models out there for young women to contribute to their self-belief and for others to appreciate female contributions then they can be a good thing.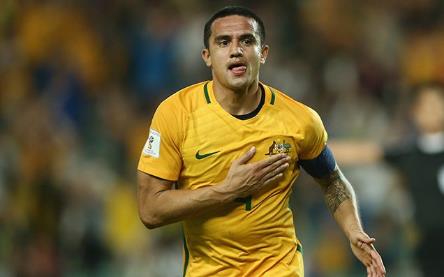 Football. Tim Cahill, our greatest Socceroo retired from International Football in 2018 and will pursue a career in coaching. Melbourne City reportedly paid Socceroos star $3.5 million to play the 2016-17 season. This one professional male player was paid more than all 181 professional female players. We often hear that professional competitions like the Women's-League (W-League) and Australian Football League Women (AFLW) show young women and girls that anything is possible and gender equality is within their grasp. Certainly, the playing standard of the W-League is world class, more than equal to the men's national competition, the A-League. Four current Matildas graced the field for Melbourne City and Adelaide United, along with a host of world-class imports from Europe and the US. The Matildas were one of six top-seeded teams for the 2019 World Cup in France and had a real chance of winning the tournament. Almost the entire squad plays in the W-League. The best way to show a young girl what gender equality looks like would be simply to provide equal facilities and equal opportunities now.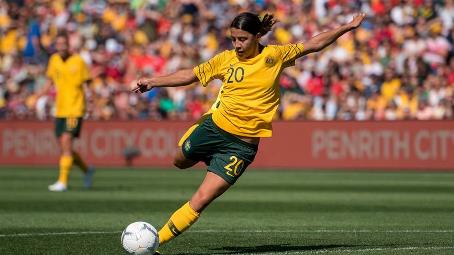 Westfield Matildas' skipper Sam Kerr continues to collect accolades after picking up two awards at the annual Excellence in Sports Performance Yearly Awards. The Australian striker has maintained her spectacular form in USA's National Women's Soccer League following the Matildas disappointing exit at the FIFA Women's World Cup France 2019. The highlight, however, was Kerr's record-breaking four-goal haul against Jamaica and becoming the first Australian to score a hat-trick at a senior World Cup. Her extraordinary record of close to a goal-a-game now stretches over a period of nearly three years. Her eye-catching celebratory cartwheel seems sure to have many more outings in the future too! Kerr was included on the 12-woman shortlist for The Best FIFA Women's Player award for a third successive year. The 2019 award, which will be held in Milan on 23 September, is based on achievements during the period from 25 May 2018 to 7 July 2019.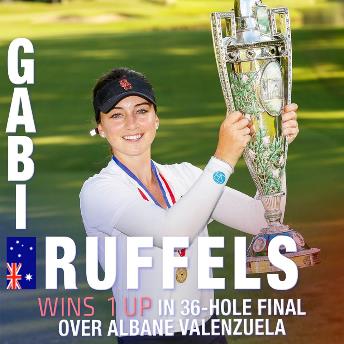 Golf. Gabriela Ruffels 19, became the first Australian in the 119-year history of the USA Women's Amateur to take the title when she beat Switzerland's Albane Valenzuela one-up in the 36-hole final at Old Waverly Golf Club in Mississippi The win follows her triumph at the North and South Amateur in the lead-up, and confirms her status as one of Australia's most promising golfers. Remarkably, Ruffels only took up golf at 15 having been part of the national elite programs of tennis. She grew up in Australia with her brother Ryan who ultimately turning professional. Ruffels has entered the American college system, studying at the University of Southern California. Only two Australians – Anne Marie Knight and Lindy Goggin – had ever reached the USA Women's Amateur final before.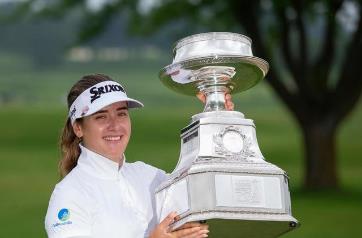 Hannah Green stunned the golfing world when she won her first major title at the Women's Professional Golfers Association Championship in Minneapolis. Green shot a 72 for a nine-under total of 207 to win by one shot over world No 4 and defending champion Sung Hyun Park of South Korea. The win is Green's first victory on the LPGA tour and sees her become the first Australian woman to win a major title in 13 years. She said, "I've always wanted to win an event, and to win a major championship as my first is crazy." The 22-year-old is just the third Australian woman to ever win a major golfing title. Karrie Webb and Jan Stephenson are the only other women to do so. Webb was the last Australian to win an LGPA Tour major in 2006 and Green won one of Webb's golfing scholarships to train with her four years ago.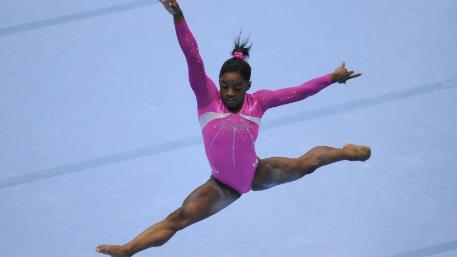 Gymnastics. Simone Biles made history when she executed the most difficult dismount ever performed by a gymnast off a balance beam. She landed a double-twisting, double-somersault dismount off the beam, becoming the first gymnast to ever attempt and master the maneuver. She then executed the triple-double during a floor routine, the same move she attempted earlier in the meet. The incredible movements took place at the USA Gymnastics Championships in Kansas City, Missouri, where Biles won her sixth national all-round title. If she is successful in completing the double-double dismount at an upcoming international competition, the move will probably be named after her. It will be the third time a skill has been named after the 22-year-old. Biles is perhaps the most decorated female gymnast of all time. She is a five-time Olympic medalist and 14-time world champion.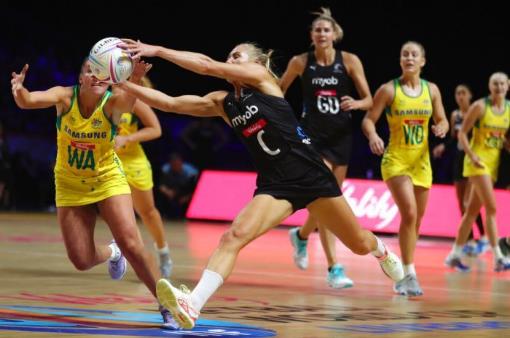 Netball. Mana, the Māori phrase for power and authority, perfectly encapsulated New Zealand's potent Netball World Cup 2019 winning performance in Liverpool as they beat the reigning champions, Australia's Diamonds, a close 52-51. Australia had defeated South Africa in the semi-final 55-53. New Zealand held off an Australian fightback to win their first Netball World Cup since 2003 with a dramatic triumph. The Silver Ferns' success completed a recent revival after they had failed to medal for the first time at last year's Commonwealth Games on the Gold Coast.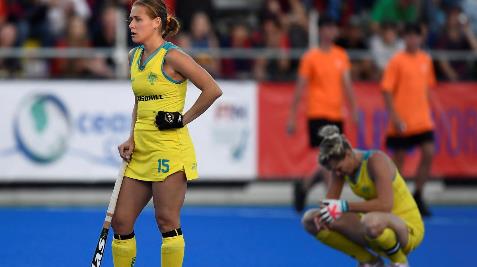 Hockey. The Australia women's national field hockey team are, as of January 2019, ranked third in the world. Having played their first game in 1914, and their first Olympic game in 1984 they are one of Australia's most successful sporting teams, boasting three Olympic gold medals, two World Cup gold medals and four Commonwealth Games gold medals. The Hockeyroos have been crowned Australia's Team of the Year five times and were unanimously awarded Best Australian Team at the 2000 Sydney Olympic Games. In a closely fought match between Australia and New Zealand in Rockhampton last week, the Blacksticks won the Oceania Cup, taking an Olympic spot on a goal difference of 6-5. The Hockeyroos will need to go via the long route to qualify for Tokyo 2020 after a 1-1 draw with New Zealand in a tension-filled final match.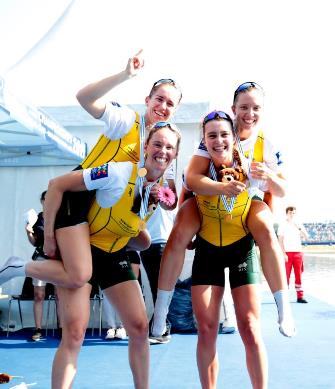 Rowing. At the conclusion of the 2019 World Rowing Championships in August in Linz-Ottensheim, Australia had qualified eight boats for the 2020 Tokyo Olympic Games and two boats for the Paralympic Games. The rowing coaches work as a team and all claim joint credit for the results but included are the two boats my two children Ellen Randell and Andrew Randell are particularly responsible for: the Women's Double Scull, which came fifth in an incredibly tight B-final with first and fifth place split by a mere 1.03 seconds and the Men's Eight just 0.53 of a second off taking a bronze medal in their A-Final. The Women's Four won gold and the Women's Eight and Women's Pair silver medals. Australia had won the World Cup regattas and came in sixth in the World Championships with eight medals, including two gold. New Zealand was the overall country winner with six medals, including four gold.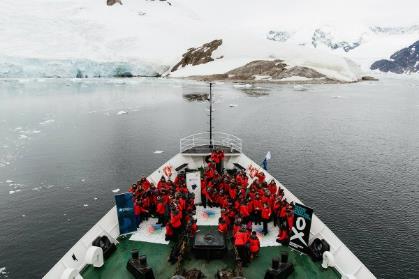 Sailing. The largest female expedition to Antarctica, with 80 female scientists on board for the 21-day trip, has arrived in the far north-east of the Antarctic Peninsula. It is the third Homeward Bound voyage, a leadership initiative which aims to heighten the influence and impact of women in STEM making decisions that shape the planet. The group set sail on the 31st of December last year from the southern Argentinian city of Ushuaia. Strong winds meant the passage took longer than expected. Alicia Collins said "We're here not despite our differences but because of them and our eagerness to learn from each other. To grow together, to lead together, to be stronger together…gender equality is just like an iceberg. We see the top and even that can be difficult to reach. Below the surface, are all the hidden structures. We need to collaborate to account for what is on the surface and what is underneath". It is expected that this powerful and perspective-shifting journey will drive and motivate the scientists to work harder for a more sustainable future when they return home.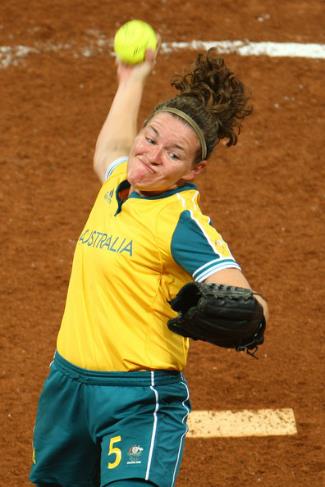 Softball. Melanie Roche has been inducted into the New South Wales (NSW) Hall of Fame, the World Baseball Softball Confederation Hall of Fame and Oklahoma State University Hall of Fame. She started her sports journey playing on the streets of Claymore and now has joined the best of the best in the NSW Hall of Champions as one of Australia's most celebrated softballers. The pitcher represented Australia for more than 20 years and is one of only four Australian sportspeople to win a medal at four consecutive summer Olympics (Atlanta, Sydney, Athens and Beijing). However, representing NSW always brought Roche a tremendous amount of pride. "It's a really good feeling because I bleed blue and have always loved representing my state," she said. Roche believes anyone who is dedicated and committed could forge a career in sports. "So much of society these days is about the quick fix, but sport isn't like that," she said. "You're in for the long haul and elite sport takes time." "I grew up playing sport in the streets – not just softball, but football, whatever was going.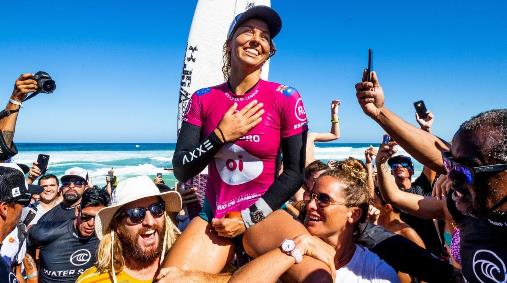 Surfing. Sally Fitzgibbons was born an athlete. From an early age she decided she wanted to be a champion at something. She played soccer, touch football and cross-country running, and ended up a national champion middle distance runner in High School. For Fitzgibbons, all those sports fed off each other, but ultimately, her love for surfing is what won out. By 16 she had utilized her athletic approach to become the World Junior Champion. At 18, she clinched the Qualifying Series championship faster than any women in history after tearing through the first five events. She followed that remarkable effort up by finishing her rookie season in the No. 2 spot behind Stephanie Gilmore. After a break she has again shone a spotlight on Australian surfing after winning the World Surf League's Rio Pro in Brazil. She is now the World No. 1, taking the title from reigning world champion Australian Steph Gilmore, now ranked third. Fitzgibbons prevailed 14.64 to 12.57 over the USA's Carissa Moore in Rio, using her priority in the last 30 seconds of the final to snatch the last wave and ensure the win.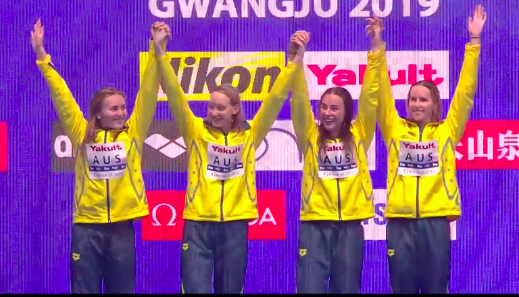 Swimming. Australia smashed a 10-year world record in the women's 4x200m freestyle relay final at the FINA World Swimming Championships in South Korea. Ariarne Titmus, Madison Wilson, Brianna Throssell and Emma McKeon won gold in a thrilling 7 minutes, 41.50 seconds taking down China's previous record of 7:42.08 which had been unbeaten since 2009. The win marks the first time Australia has won the women's 4x200m world title. McKeon said, "Just touching the wall and seeing the three others celebrate made me so excited. I wasn't thinking about a world record, that was the key". After the record-breaking swim, 18-year-old Titmus paid tribute to McKeon, who has been one of Australia's top swimmers over the past decade. Australia finished the meet ranked second in the swimming pool behind the United States and fourth overall, a dramatic improvement to 2017 when it came eighth.
Tennis. The young trail-blazing Indigenous Australian Ash Barty (23) was a picture of grace, graciousness and sheer talent as she powered through to beat 19-year-old Czech Marketa Vondrousova 6-1, 6-3 in the French Open. In her victory speech, she humbly thanked her supporters, family and former tennis great Evonne Goolagong Cawley, for paving the way to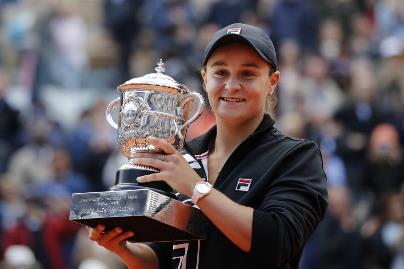 follow. Barty said, "It's amazing how she's created this path for Indigenous tennis in Australia and I think now it's becoming more nationwide. There are more opportunities for kids to play tennis, both male and female, and I hope we can continue to create those opportunities and let kids know that this is an option for a career. And even if it's not, it's a sport that they can play for life." At a time when several male professional athletes are acting like petulant, self-serving brats, women and girls have sporting role models they can unconditionally look up to. Across sporting codes – cricket, football, rugby, netball, basketball – female athletes are making us all proud, not simply because of their talent (which is undeniable) but because of their spirit. They are the athletes we need to celebrate right now.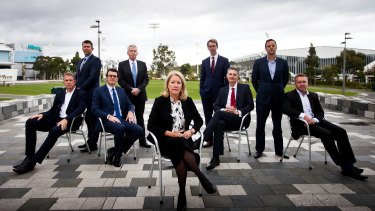 Pay Equity. The CEOs of Australia's leading sports organisations, including rugby-NRL, football-National Football Association (NFA) and soccer-Football Federation of Australia (FFA) have joined forces to close the pay gap for women athletes under the Male Champions of Change (MCC) Pathway to Pay Equality report. It is believed to be the first time internationally that leaders of competing sporting codes and clubs have united on the issue. "Sport plays a critical role in Australia's economy, national identity, social cohesion and community well-being," Founder and Convener of MCC Sport Elizabeth Broderick said. "Yet equal pay – the most visible manifestation of a genuine commitment to equality – still remains out of reach for elite women athletes across many sports. Pay equality means that women's sport is valued equally to men's, and therefore female athletes have access to the same remuneration opportunities. The report also recommends full disclosure of all salaries in sport, flexible working arrangements adopted by Australian businesses for employees trying to pursue a professional sporting career and making government funding conditional upon pay equality.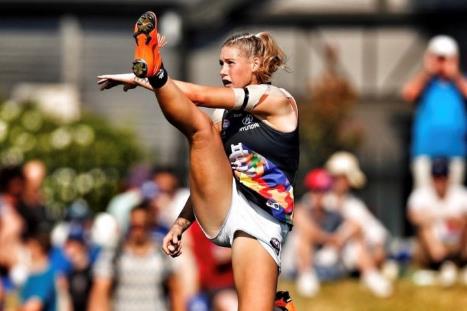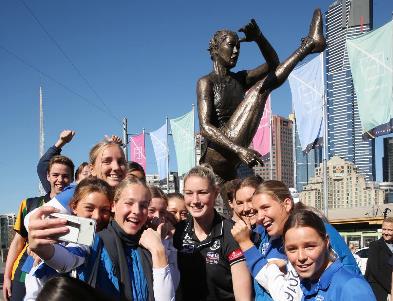 Sexism. If the generalised outcry generated by sexist comments about a Facebook image of Tayla Harris, Australian rules footballer in mid-flight, playing for the Carlton Football Club in the AFL Women's (AFLW) competition, is a sign (and many commentators say it is), then we have witnessed a turning point. Or, at least we are seeing its start. Perhaps in part because the Australian online community is so sensitised to hate-speech following the recent, horrendous, events partly attributed to it, the pushback to the gendered abuse directed at Harris has been comfortingly fast, fierce and widespread. The chorus of objectors crossed gender lines, sporting codes and industries. It was so substantial that, as the outrage storm settled, it became clear tolerance for such visible, rank sexism is at an all-time low. Harris said on radio that she felt 'empowered' by the outpouring of love. Danielle Warby, women's sports advocate said: "I've said it before about gendered violence in the online space, we're tired of having to stand up to this, and it should not be on us to do so." Clearly a huge mass of the sports-loving online community believes she is exactly right. A 3.3 meter bronze depiction of Harris' kick has been unveiled in Melbourne's Federation Square. Statues like this can celebrate an individual's achievements but also expose prejudice or signpost changes in our societal values.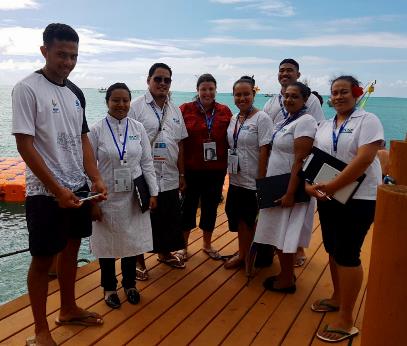 Sports Matters. I was delighted to be invited onto the Sports Matters Board by CEO/Director Jackie Lauff. We work in partnership with organisations around the world using sport to promote positive and long-lasting development. Sport Matters continues to kick goals in the Pacific and is a driving force for regional policy, advocacy and coordination. In partnership with the University of the South Pacific (USP), we are working on the region's first research measuring the socio-economic impacts of the Samoa 2019 Pacific Games. Lauff is pictured with some of the 14 students from USP's Alafua Campus who conducted 840 surveys during the Games as part of this research at the Sailing and Va'a venue. This year, Sport Matters has delivered a series of inclusive sports events in Fiji in partnership with the Fiji Paralympic Committee. In June we partnered with the Fiji Association of Sports and National Olympic Committee to deliver an inclusive sports event for over 500 people with disabilities and their families to celebrate Olympic Day.
Activities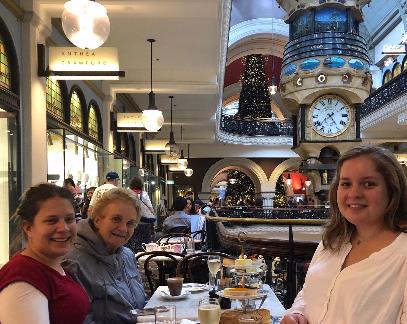 I do try to record my activities on FaceBook when I make time for it and I know some of you follow this: https://www.facebook.com/shirleykayerandellpage/ Since my last 2018 newsletter, I was pleased to celebrate the academic achievements of two of my granddaughters at the end of the year. Isabella Randell graduated from Sydney University with a Bachelor of Pharmacy degree and with her sister Emilia we enjoyed the musical 'Mandela' and a High Tea at the Victoria Centre. Jessicca Griffiths completed secondary school and we had dinner in a Darling Harbour restaurant before attending with thousands of others the sold-out Australian Women Donors Network and Growth Faculty event with Malala Yousafzai, the world's youngest Nobel Laureate. This important discussion exposed us all to the shocking persistence of gender discrimination and the support of Malala's father in her journey. She challenged each of us to accept the opportunity to contribute to changing the world. Jessicca has gained a place at the Australian National University in Canberra studying politics, philosophy and international relations and living in the home of Doug and Julie.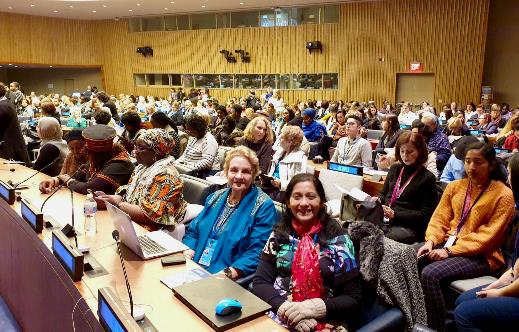 March in USA I am so fortunate to have friends all over the world and am able to renew connections during my overseas travels, the costs of which dip into my children's 'inheritance' with their approval! In March I gave presentations again as a member of the Graduate Women International's (GWI) delegation to the United Nations Commission on the Status of Women. The topic this year was 'Social protection systems, access to public services and sustainable infrastructure for gender equality and the empowerment of women and girls'. UN Secretary General António Guterres spoke in several languages to delegates at a town hall meeting. I gave one presentation with a GWI panel that included my Rwandan colleague Sylvie Nsanga Rwiyereka, another with fellow delegate Prof Jaya Dantas from Curtin University, and one with Megan McCloskey's panel speaking on 'Challenges in access to public services for marginalized older and homeless women'. Jaya and I travelled together on to Kansas where we were hosted by the School of Health Professions as we presented to the Kansas University Medical Centre. Then I went on alone to Missouri to stay with Rwanda friend Prof Rangira Béa and Dr Tim Gallimore at Columbia and then speak at the University of Missouri-St Louis at the invitation of Women Leaders in Education Across Continents (WLE) friends Dr Angie Coker and Claire Martin who I met in Rio de Janeiro two years ago.
June in Germany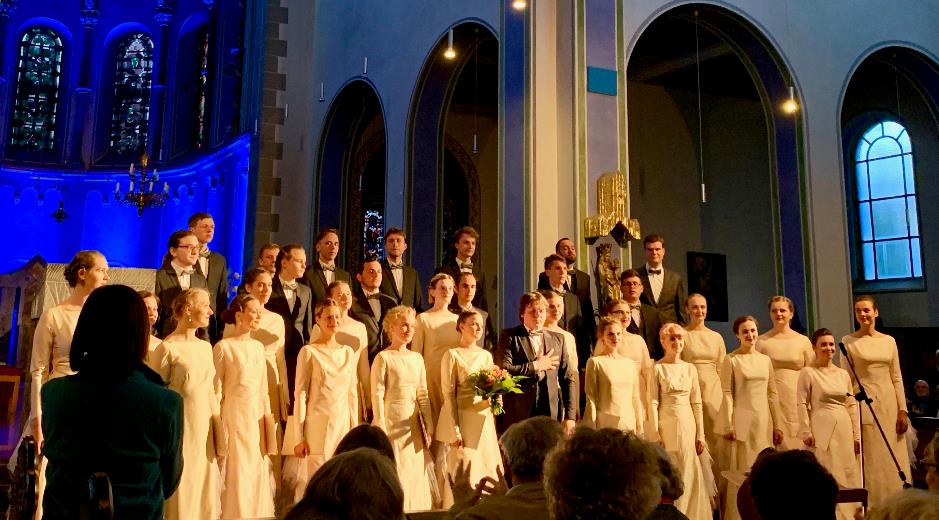 The International Rotary Convention was held in Hamburg, wonderful speakers, peace conference and old and new friends. I was welcomed on my first day there by local Zontians introduced by international president Dr Susanne von Bassewitz. After the convention I had a whirlwind tour of the country hosted by old and new friends. I spoke on migration and refugees in Freiberg where I stayed with my friend Heike Mensch who had joined a Rwanda Friendship Tour that I had organised years ago. In Bonn I was welcomed by Soroptimist past president Kathy Kaaf who took me sightseeing around both Bonn and Köln, including services in the majestic cathedrals, hosted a dinner with interesting people and then on to another friend from Rwanda days, Regina Poth in Aachen. There was an international choir festival being celebrated and I listened to some magnificent choirs, including Regina's. Two Zontians greeted me in Dusseldorf, and Ing Irene Wiese v.Ofen took me on to Essen to view the amazing Ruhr Museum at Zollveren. This was once the most modern productive coal mine in the world and has been transformed to show the complete natural and cultural history of the Ruhr area. We had lunch with Hans Joeres a colleague from Bangladesh and I then met with another friend from Dhaka, Dr Purnima Chattopadhayay in Frankfurt before flying home.
July in the UK and Switzerland
The purpose for visiting the UK again was to speak at the Women Leaders in Education Across Continents conference at the University of Nottingham and the graduation seminar at De Montfort University in Leicester. Both went well and I sandwiched them between visits again with friends and colleagues. In London I stayed with the Australian President of the Zonta Club of London, Diane Jeans and spoke with members over dinner. After Nottingham I visited Adine and Vince Blaeford at Barnard Castle. I had sailed with them whale-sighting on the Bluewaters Adventures yacht in Alaska last year. They showed me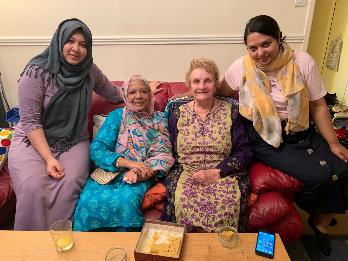 around County Durham, and we attended a great local production of Alice in Wonderland. Bangladeshi colleague Tajkera Khair who had presented with me at the WLE conference took me for a traditional meal in her relatives' home after which I travelled by train to spend a day with my cousins in Devon Jacqui McGuire and Beau Sherriff. My last days in the UK were at the home of the founder of Equality in Tourism Stroma Cole. I took time to write a blog as an associate for EiT and enjoyed an outdoor movie of Bohemian Rhapsody with her family.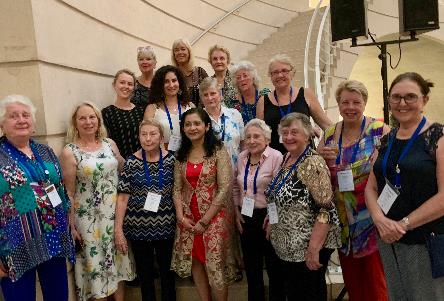 It was the 33rd Triennial and Peace through Education Centenary Conference of Graduate Women International in Geneva where Jaya Dantas as President and I as Coordinator of International Relations led a team of 18 members of the restructured Association of Graduate Women. Nearly 400 women from 50 countries attended the celebration. Apart from the business meetings and deciding policy resolutions we heard many interesting speakers, including Nelson Mandela's granddaughter, Zanaswazi and senior staff of the UN World Trade Organisation during a visit to their headquarters. Once again Jaya and I presented at a workshop on Australia's women's agencies and I and two other Australian delegates presented papers. Young Australian member Emily Lawson sang the centenary song she had composed and won in the competition. The centenary event showcased the power of networks and friendships and reinforced the vital and uncontested importance of education to empower and make a difference to people's lives. We spent the last day visiting the fabulous Olympic Museum in Lausanne.
Boards. I am delighted to continue my work on the board of indigo foundation that has had a dynamic and rewarding year, thanks to the incredible work of our community partners, partnership coordinators, supporters and hard-working and highly skilled staff and volunteers. Here you can see a snapshot of the year. Numbers alone do not speak to the complexity a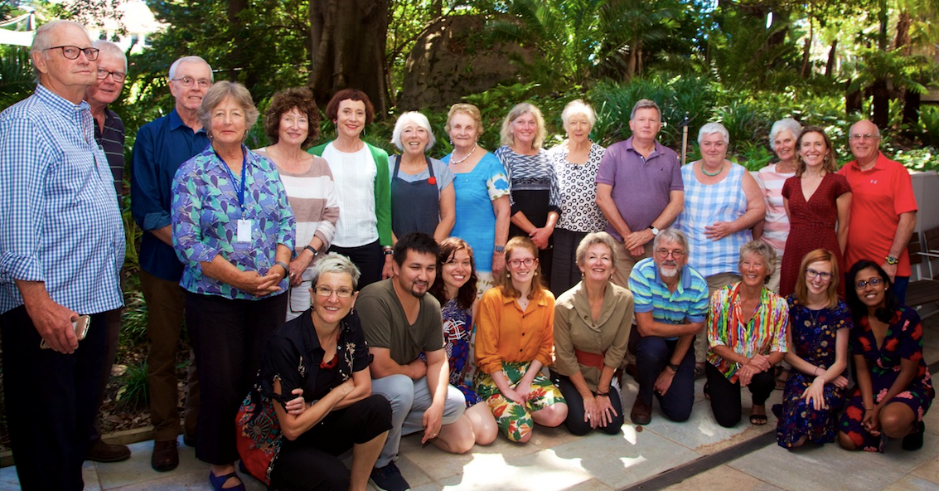 nd challenges of community development, nor to the strength of our partners, but it does give a sense of what we have achieved together. And it again shows that trusting communities to lead their own development and building the capacity of local organisations works – it improves lives and builds resilient communities. indigo foundation continues to be a lean and passionate organisation. Additional information is available in our 2018 annual report which sets out the collective contributions and achievements of our partner communities overseas and our supporters and team in Australia. Our last board meeting was in Melbourne and I spoke briefly on Club Rafiki's work in Rwanda at our fund-raising dinner. I had the pleasurable opportunity to stay and meet with my step grandchildren, Paris Lettau, Inci Keleher and partners Chelsea and Bianca. Next visit I will have time with Lena, Wren and step great grandchildren Mila and Marlon.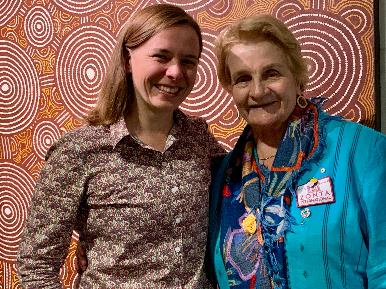 Brisbane. I have just returned from the Zonta conference in Brisbane where I enjoyed staying with long-standing friend Elaine Roberts. Apart from renewing friendships with Zontians from all over Australia and New Zealand and President Susanne von Bassewitz from Germany, I met with my nephew John Loneragan/Rangeny Thomas family and Laurie Sewell and family from 30 years ago in Vanuatu. One of the many outstanding conference speakers was Lisa Harvey-Smith who showed why she is Australia's STEM Ambassador, talking about her career and the myriad of jobs that are and will be available for women in, for example, space engineering. She outlined a number of projects she's working on, all designed to make STEM subjects more visible and attractive to girls to pursue. I return to Brisbane in November to attend another meeting of the Economic Security for Women AGM and visit grandchildren Nathan and Kaylin Randell and great grandson Joash in Townsville.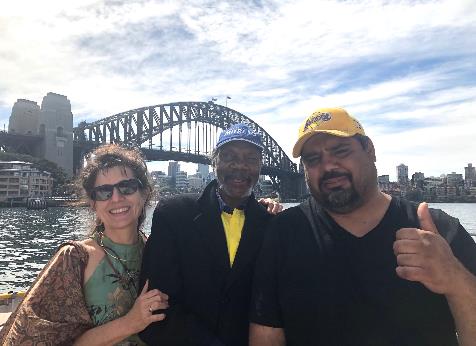 Family. I have had visits from both my older brother Bob Izett and partner Joy Stock, and younger brother Bill Izett and friend Maria Redman through the year and they are making plans to return for the celebration of my 80th birthday on the Tribal Warrior on Sydney Harbour on 1 March next year. I visit my Canberra families attending national meetings of the Independent Scholars Association national council and they are reasonably frequently in Sydney. Of course, my Sydney families, daughter Ellen, Adam and Alicia and the Randell grandchildren Emilia, Isabella and Harrison are regulars. It was a great joy to visit my daughter Erica Izett for three weeks in April soon after she moved to Tennant Creek to take up the job of manager of the Nyinkka Nyunyu Art and Culture Centre. She has just been with me for a few days with three artists from the Tennant Creek Brio – an artist collective. Erica, Fabian Brown and Joseph William are seen here enjoying a ferry ride across to Cockatoo Island after attending the announcement of their participation in the 22nd Art Biennale of Sydney 2020 NIRIN, curated for the first time by an Indigenous artist Brook Andrew.
My opportunities to write, to spend time with family and friends, to attend meetings and speak at conferences are mostly interesting, productive and pleasurable. This month, when the lists of noble and important things to do seem never-ending, and the many vital and thoughtful initiatives are blurring before our eyes, and the awesome productive bureaucracy of day to day life feels heavy, let us take a little walk, read a poem and refresh our souls.
Blessings of love and peace
Shirley Randell
The Fourth Sign of The Zodiac (Part 3) by Mary Oliver
I know, you never intended to be in this world.
But you're in it all the same.
So why not get started immediately.
I mean, belonging to it.
There is so much to admire, to weep over.
And to write music or poems about.
Bless the feet that take you to and fro.
Bless the eyes and the listening ears.
Bless the tongue, the marvel of taste.
Bless touching.
You could live a hundred years, it's happened.
Or not.
I am speaking from the fortunate platform
of many years,
none of which, I think, I ever wasted.
Do you need a prod?
Do you need a little darkness to get you going?
Let me be as urgent as a knife, then,
and remind you of Keats,
so single of purpose and thinking, for a while,
he had a lifetime. . .
(John Keats was an English Romantic poet. He was one of the main figures of the second generation of Romantic poets, along with Lord Byron and Percy Bysshe Shelley, despite his works having been in publication for only four years before his death from tuberculosis at the age of 25.)
.