My life continues to be full of richness. I feel a profound gratitude that I can in good health enjoy meaningful work and travel to explore the miraculous beauty of this blue planet in the company of a loving family and so many wonderful friends. I have been so fortunate that I have crossed paths again this year with many of you. However, my commitments have been at the expense of my newsletters and I have not written one since December last year. I have been posting on Face Book and Twitter so if you use these forms of social media you will have kept abreast with some of my activities (https://www.facebook.com/shirleykayerandellpage). In March I was as usual a member of the Graduate Women International's delegation for the United Nations Commission on the Status of Women in New York (image).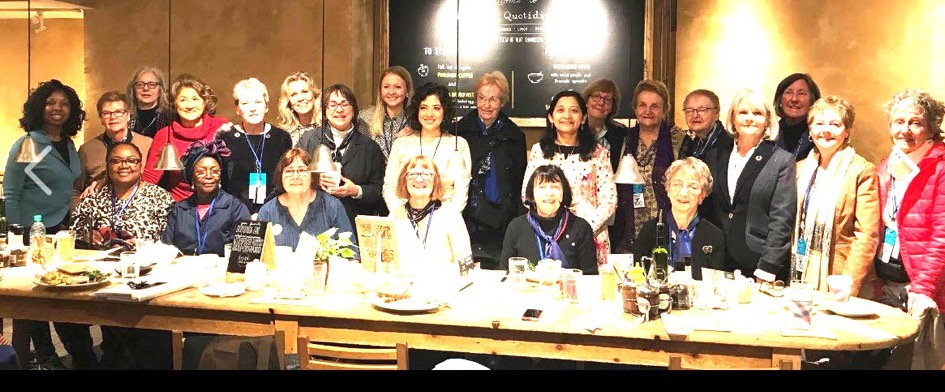 I participated in three presentations on the theme, 'Social protection systems, access to public services and sustainable infrastructure for gender equality and the empowerment of women and girls.' More about that in my next blog. I am trying out a new approach with a shorter blog written more regularly. For this one I will concentrate on progress being made for women in politics around the world, then catch up with significant obituaries, and promise another topic in September. As usual I am concentrating on news about women who do not receive the same publicity as men do. We are making much progress and should celebrate every step forward but there is still far to go.
Women in Politics
Several countries have achieved gender parity in Cabinets following Canada's first initiative to introduce a gender equal Cabinet in 2015. Finland's new center-left coalition government has the country's first Social Democratic prime minister in 16 years.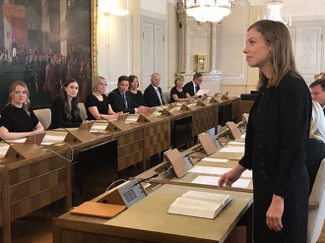 He assumed office along with a climate issue-focused Cabinet where women are in the majority. Eleven of the 19 Cabinet members are female, reflecting Nordic gender equality in the nation's politics. With the Social Democrats in power in Sweden since
2014, and social democratic parties in Finland and Denmark scoring general election wins in the past few months, the political tide has turned to the left in Nordic countries — overcoming strong populist movements in each nation. In Finland the government's program pledges to make the nation of 5.5 million "a sustainable society socially, economically and ecologically" with a strong emphasis on environmental and climate change issues.
Rwanda. The Cabinet of Rwanda appointed in 2018 is 50% women making Rwanda, with Ethiopia, Seychelles and South Africa, one of the four African countries with gender equality in their governments. I was delighted when a special friend over many years, Ambassador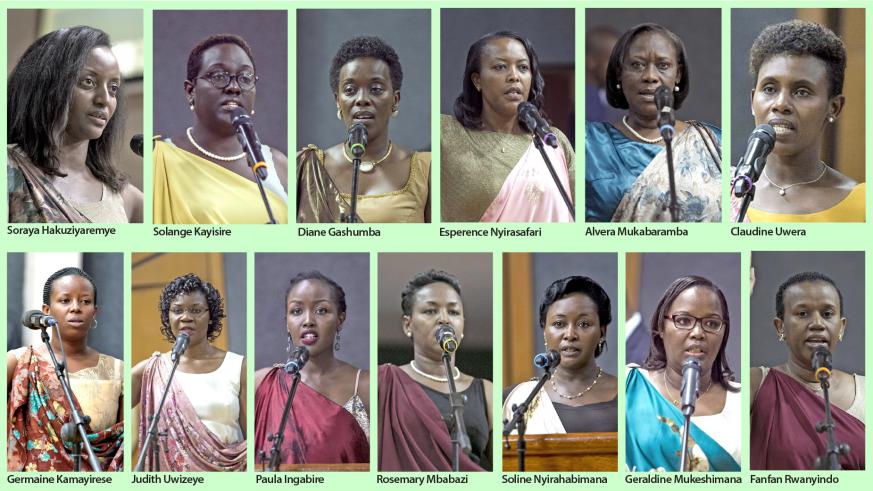 Soline Nyirahabimana, was appointed to the Cabinet of Rwanda as Minister of Gender and Family Promotion. I first met her in Geneva Switzerland where she served as Rwanda's Ambassador and Permanent Representative of Rwanda to the United Nations in Geneva before she was recalled in 2013. Ambassador Soline then made time to undertake the master's degree in Gender and Development and serve as Project Convener of the Rwanda Association of University Women as well as on the Graduate Women International's Projects Committee.
United Arab Emirates. Her Highness Sheikha Fatima bint Mubarak has played a significant role in the advancement of women's causes both nationally and internationally. The UAE is a pioneer in the region, with among the highest representation of women in office globally.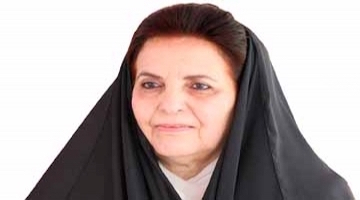 It has already achieved gender balance in its Cabinet and in various sectors, and representation of Emirati women in the Federal National Council has now been raised to 50 per cent. This landmark resolution confirms Sheikha Fatima's efforts as Chairwoman of the General Women's Union, President of the Supreme Council for Motherhood and Childhood, and Supreme Chairwoman of the Family Development. The decision is a major step forward for gender equality and women's empowerment in the UAE, with direct implications for women's broader engagement in national decision-making. This means more diverse decision-making, tabling of different issues, and sends a strong message to all girls that they too can lead and be anything they want to be.
Slovakia. Vocal government critic and anti-corruption activist Zuzana Čaputová has become Slovakia's first female president. The environmental lawyer won 58.01% of the ballot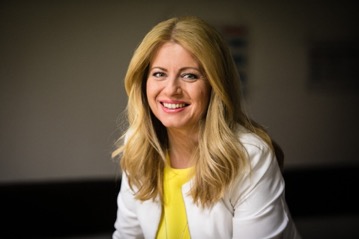 after results from more than 90% of polling stations were counted. Čaputová, a political novice who ran on a slogan of "Stand up to evil," had earlier said the campaign showed "that values such as humanism, solidarity and truth are important to our society". She had also called the last few weeks "extremely challenging" and "an intense journey". No stranger to tough battles, Čaputová won a 2016 award for successfully blocking a planned landfill in her hometown, Pezinok. More recently, she took to the streets along with tens of thousands of other anti-government protesters after the investigative journalist Ján Kuciak was shot dead alongside his fiancee, Martina Kušnírová in February 2018.
Germany. Annegret Kramp-Karrenbauer is the new chairwoman of the center-right Christian Democratic Union (CDU) and has just made German post-war history by becoming the first woman to succeed another woman as leader of a major political party.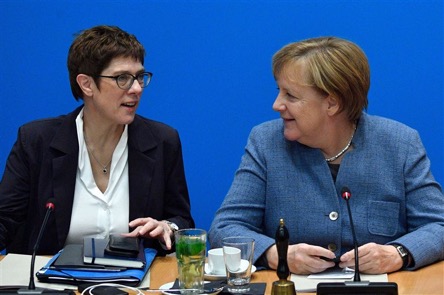 She follows Angela Merkel, who led it for 18 years and has been Chancellor for 13 years. There is speculation that Merkel and Kramp-Karrenbauer have dealt the final death blow to German machismo: "Postwar West German politics were dominated by larger-than-life titans who smoked, drank and womanized, and reveled in political combat". This was particularly true of the four chancellors who ruled between 1969 and 2005: Willy Brandt, Helmut Schmidt, Helmut Kohl and Gerhard Schroeder. Merkel, the daughter of an East German Protestant pastor, taking over the party leadership in 2000 was a jarring shock to a male-dominated and mostly-Catholic CDU debilitated by a financing scandal. During her time in office, she has presided over the extension of paid parental leave and the legalization of same-sex marriage.
Kramp-Karrenbauer twice won elected office as the German equivalent of a state governor, resigned, rejected a Cabinet post to serve instead as her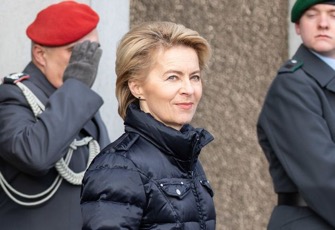 party's secretary general, and vaulted to the top position only nine months later with a cheerfully combative performance at the convention. Today's Germany is still quite a way from equal pay for women, or parity of representation in legislatures or on corporate boards. But some of the Bundeswehr's combat units are commanded by women. Ursula von der Leyen is the former defence minister, and women are either leading or co-leading all except two of Germany's political parties. Von der Leyen has been elected as the next European Union Commission president, the first woman to hold the position.
Costa Rica. Epsy Campbell Barr has made history by becoming the first black female vice-president in the Americas.
She is a highly accomplished economist who has written extensively about sexism, racism and people of African descent, and economic participation. She is also the co-founder of Costa Rica's ruling Citizen's Action Party. Campbell Barr has previously played leading roles in the Center for Women of African Descent, the Alliance of Leaders of African descent in Latin America and the Caribbean, and the Black Parliament of the Americas. She also founded the Women's Forum of Central American Integration. One of her central campaign promises was to reduce the gender wage gap in Costa Rica.
Solomon Islands. Lanelle Tanangada, a teacher and graduate from the University of Waikato in New Zealand, has been elected to the National Parliament and sworn in as the Minister for Women, Youth, Children and Family Affairs.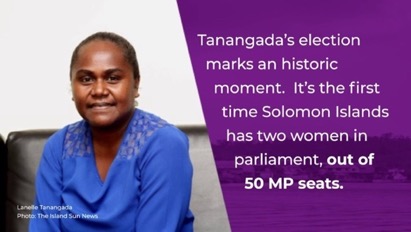 For the first time there are two women MPs in office at once in the 50-member parliament. Tanangada is an independent candidate who polled 2580 votes ahead of former MP and Prime Minister for Solomon Islands Gordon Darcy Lilo with 1593 votes. She is the first ever woman in the Western Province to be elected into Parliament.
Lebanon. In 2019, the Lebanese government has more women than ever before, with four women now holding Cabinet positions, three more than in the previous government. Raya al-Hassan has been appointed as interior minister, the first woman in the Arab world to take on such a portfolio.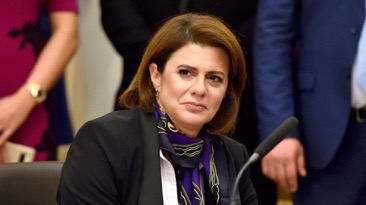 al-Hassan is a senior politician in Lebanon and has previously held top jobs in government, including finance minister from 2009-2011. Her appointment to a portfolio managing national security has been seen as a monumental step forward for women in Lebanese politics. The other women appointed to the cabinet hold positions in energy, administrative development, and the economic empowerment of women and young people. These appointments mark a shift for Lebanon, where under a prior government, even the minister for women was a man. She said, "Because I'm the first woman, I need to act as a role model and prove that women in positions that are usually held by men can do the job as well, if not better, than men."
United States of America. Nancy Pelosi was re-elected Speaker of the House in the US and received a standing ovation for her first address, with her firm comments on climate change standing out at a time when the Trump administration has largely rejected the issue. She is the only woman to have served in this position that she also held from 2007-2011. Pelosi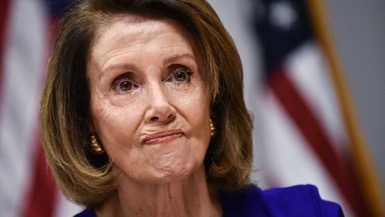 described the climate crisis as "the existential threat of our time…a crisis manifested in natural disasters of epic proportions." She said, "The American people understand the urgency. The people are ahead of the Congress. The Congress must join them." She was described by incoming Democratic caucus chair Representative Hakeem Jeffries as: "A woman of faith, a loving wife, a mother of five, a grandmother of nine, a sophisticated strategist, a legendary legislator, a voice for the voiceless."
Nevada became the first state in the US with an overall female majority in the Legislature when county officials in Las Vegas appointed two women to fill vacancies in the state Assembly.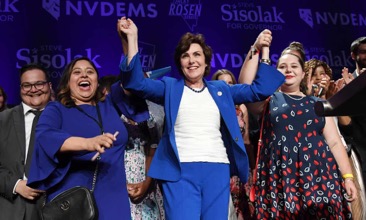 The appointments of Democrats Rochelle Thuy Nguyen and Beatrice "Bea" Angela Duran to two Las Vegas-area legislative seats give women 51 percent of the 63 seats in the Legislature. Women hold 23 of 42 seats in the Assembly, comprising 55 percent and giving women enough numbers to make the two chambers an overall female majority. According to the Center for American Women and Politics at Rutgers University, which tracks women's political representation, no state has previously had a female-majority or even a 50 percent-female Legislature.
United Kingdom. Theresa May was handed the most difficult of tasks as leader of the Conservative Party and she pursued it for almost three years. She finally declared that time was up on her leadership as Prime Minister, and on her personal pursuit of achieving Brexit.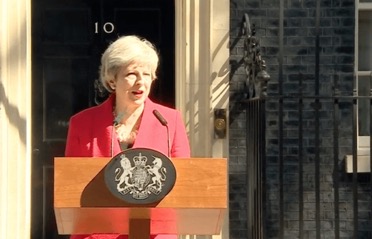 "I believed it was right to persevere even when the odds against success seemed far, but it is now clear to me that it is in the best interests of the country for a new prime minister to lead that effort," she said. "It is and will always remain a matter of deep regret to me that I have not been able to deliver Brexit." Ever since taking the top job, May has been considered a key example of the 'Glass Cliff' theory: the idea that women ascend to leadership positions when the risk of failure is high. Now it seems she has finally fallen off the cliff — although not without a fight and hanging on after suffering humiliating defeats.
New Zealand. When NZ Prime Minister Jacinda Ardern came to power she promised her government would do things differently.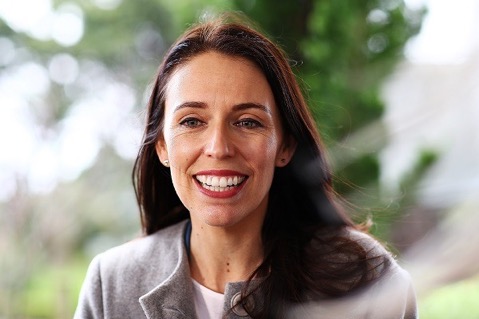 She has now produced a Wellbeing Budget and a different approach for government decision-making altogether. Promising to put matters of public wellbeing next to the economic figures, her government has announced billions of dollars towards new spending on tackling mental health, suicide rates, child poverty, homelessness and domestic violence. It is the first time a western country has designed an entire budget around wellbeing measures. "For me, wellbeing means people living lives of purpose, balance and meaning to them, and having the capabilities to do so," New Zealand's Finance Minister Grant Robertson said.  Women running themselves into the ground to have the 'insta-perfect' life, juggling businesses, careers, families, health and home life, is one of the biggest issues facing women in 2019.
Aliza Bloch, a religious Zionist woman and former high school principal, has become the city of Beit Shemesh's first female mayor.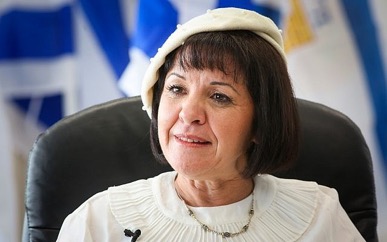 This role model for girls in Israel and around the world says the Jerusalem suburb can transform "from a hotbed of religious friction into a shining example of coexistence". The mixed secular-religious-ultra-Orthodox city of 100,000 residents has been long-plagued by friction between its various communities. As mayor, Bloch said she will serve all the disparate populations equally and hopes to unravel previous conceptions that local officials only look after the interests of their community members. She hopes to clean up the city, quickly build many more classrooms, encourage businesses to set up shop, and significantly bolster education in the city, from kindergartens through high schools, to post-high school programs and higher education. "I saw a real opportunity here to create a better world…There is amazing potential here to build a worthy Israeli society…I've learned that change can be made from hope, from love, without slander, without criticism, without hate."
Australia. A record seven women are in the Scott Morrison Liberal/National Government Cabinet with Marise Payne the Minister for Women, while retaining the Foreign Affairs portfolio. "Securing economic opportunities for women, focusing on their safety and achieving genuine gender equality are just some of the areas on which I will direct my attention," she said. "The intersection of my two portfolios also presents extraordinary opportunities to make gains for women and girls both at home and abroad." Sussan Ley is the Environment Minister, Linda Reynolds the Defence Minister, while Bridget McKenzie, Deputy Leader of the Nationals is Agriculture Minister, the first woman to ever take on the agriculture portfolio. Michaelia Cash is responsible for the Employment portfolio as well as skills, small and family business. Karen Andrews is the Minister for Industry, Science and Technology and Senator Anne Rushton is Minister for Families and Social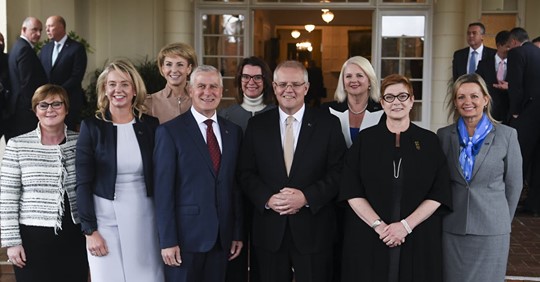 Services. In the outer ministry, Melissa Price is the Minister for Defence Industry, Nola Marino is the Assistant Minister for Regional Development and Territories, Jane Hume the Assistant Minister for Superannuation, Financial Services and Financial Technology, and Michelle Landry Assistant Minister for Children and Families. Women represent 23% of parliamentarians in the Coalition parties.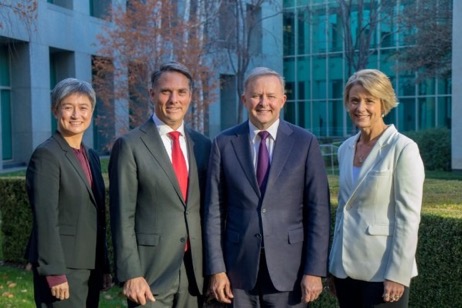 Despite an unexpected defeat at the Federal Election, with 47% women the Australian Labor Party has continued its progress towards gender equality – 44 women were elected to Federal Parliament, compared to 26 in the Coalition parties. Ensuring equal representation of men and women in his leadership team was the first order of business for the newly appointed leader of the Labor party, Anthony Albanese who has a 50/50 shadow cabinet. Senator Kristina Keneally is Penny Wong's deputy leader in the Senate with 50/50 gender balance in Labor's leadership team. Wong has been named the 2018 McKinnon Political Leader of the Year. She received the award for her leadership and advocacy in promoting tolerance and inclusiveness in Australia, and for playing a significant role in shaping Australia's foreign policy dialogue. As Labor's foreign affairs spokesperson, Wong has been a consistent force in shaping respectful political debate in Australia. The award also comes after her leading role as an advocate for marriage equality during the 2017 postal survey.
Indigenous Labor MP Linda Burney wants to stress that the stunning portrait of her that was recently unveiled at Parliament House is about much more than her. "This is not just about a portrait of me," she said.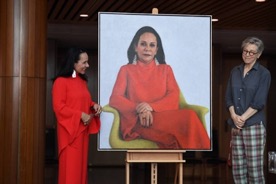 "This is about those who have come before me, and those who come after. This is about all of us, and I want to really stress that. There is a little bit of all of us in this painting." The portrait recognises her as the first Aboriginal woman to be elected to the House of Representatives and was unveiled in Canberra with representatives from both sides of politics present. Burney was elected in 2016, after an historic 13 years in the NSW Parliament and is Shadow Minister for Families and Social Services and for Preventing Family Violence. "I am humbled because I am reminded that we all serve in this place. We enter this place having been lifted up on the shoulders of many others".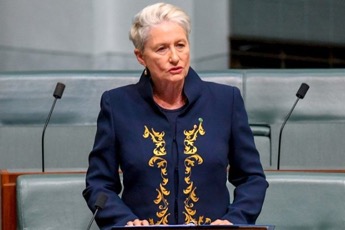 Dr Kerryn Phelps proved to be effective in the short time she was in Parliament as an Independent member on the Crossbench. She looked to solve a protracted problem that Australian voters care about. The medical transfers bill, that guarantees urgent medical care to sick refugees on Manus Island and Nauru, passed the House by one vote and the Senate by two. It was the first time since 1929 a sitting Government lost a substantive vote in the House. Similarly, two women, Dr Sara Townend and Dr Neela Janakiramanan mobilised their professional peers quickly and effectively in support. This victory reinforces what we know about what a diversity of experience brings to the table. It can change the way problems are viewed and solved. It is not the end of the problem as there are lives irreparably damaged because of indefinite detention. Sadly, the new Government has already voted in the House to repeal the law and this will be decided in October by the Senate.
NSW Premier Gladys Berejiklian is the first ever elected Liberal female Premier in the Australian states.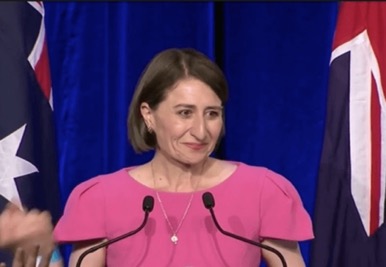 "Whether or not my government is a majority or minority government, we will work closely with the three minority parties in the New South Wales government which is so important for NSW," she said. Before thanking her mum, dad and sisters. Berejiklian highlighted the significance of her win and her gratitude in NSW for being a state willing to elect a woman from a migrant background as Premier.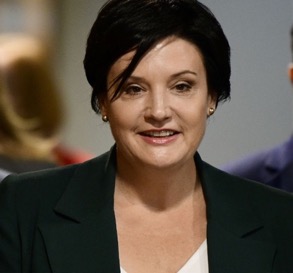 There will be 13 women sitting in the Lower House from 48 government representatives. Fantastic to see women as both Leader and Deputy Leader of NSW Labor Jodi McKay and Yasmin Catley. Penny Sharpe has served as interim leader and will be staying on as Deputy Leader of the Opposition in the Legislative Council, making 75% of the NSW Labor leadership team women. McKay's new frontbench provides a stark contrast to Berejiklian's NSW cabinet, where woman make up 21% of the front bench, holding five of 24 positions. This is the first time two women will face off in NSW parliament as Premier and Opposition Leader.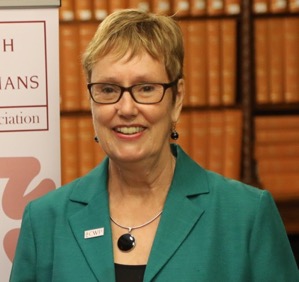 The Commonwealth Women Parliamentarians (CWP) Alumni Network has been launched with the objective of providing a framework for former women parliamentarians to deliver mentoring, coaching and advice to the benefit of sitting women parliamentarians and to act as a resource for the Commonwealth Parliamentary Association. Dr Lesley Clark, a former Member of the Legislative Assembly of Queensland in Australia is CWP Alumni Champion and Ambassador for the Network to share her experience and expertise. Clark was an MP from 1989 to 1995 and again from 1998 to 2006. Like many MPs she was involved with local politics before entering Parliament, serving as a member of the Mulgrave Shire Council. The six women in the CWP pioneering program – from four different parties, three of them ethnic parties – were paired with six experienced Australian women MPs across the political spectrum. Over the course of a year the women visited each other's countries, explored their shared experiences of political life, and exchanged notes on confronting sexism. The Australian MPs also helped their counterparts learn about standing up to male colleagues in political debate, exposing children to civic education, representing their constituents, and continuous campaigning across the election cycle.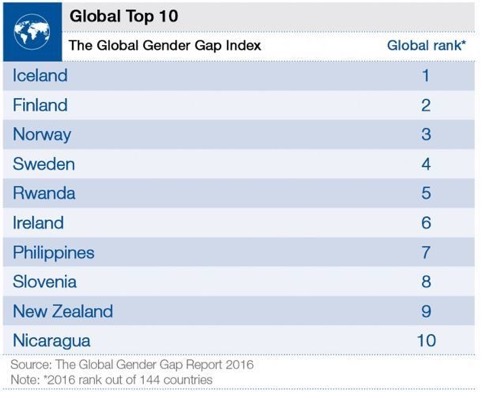 When it comes to political representation globally, the recent World Economic Forum (WEF) report estimates it will take 107 years before there are as many female politicians as male politicians globally. Just 17 of the 149 countries assessed currently have a female head of state, while women make up just 18 per cent of ministers and 24 per cent of parliamentarians globally. The most gender equal countries in the world: Iceland, Finland, Norway, Sweden, Rwanda, even New Zealand continue to excel. Australia has bounced around the rankings over the past 12 years, achieving a respectable 15th place back in 2006, but ranked 45th in 2016. Once again, Australia has continued to achieve an equal first ranking for women's educational attainment but fell well behind much of the world on other measures of gender equality. In 2018 it ranked 39th of 149 countries based on progress towards gender parity: 46th for economic participation and opportunity, and 49th for political empowerment. The WEF report authors say Australia has seen a widening of the gender gap when it comes to legislators, senior officials, managers and wage equality. As for progress on gender equality globally, the WEF says it will take 202 years to close the economic opportunity gap (which covers participation, pay and advancement in the workforce) between men and women at the current rate of change. On average, women internationally earn just 63 per cent of what men earn and no country in the world currently sees women earning as much as men. Just 34 per cent of global managers are female. When considering all gaps, the report says it will take 108 years to reach parity.
Obituaries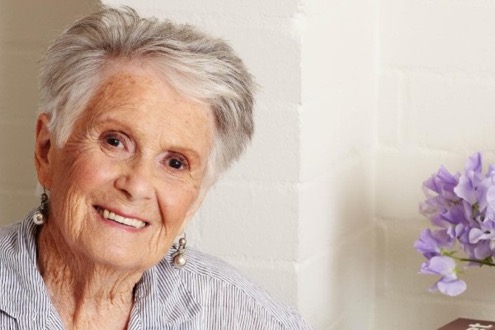 Margaret Fulton OAM, the prolific cookbook author, doyenne of Australian food, died on 24 July 2019 at age 94. Scottish born, she came to Australian as a three-year old and became a teacher, a cook, a journalist, a writer, an advertising and account executive, a pressure-cooker salesperson, and a solo parent. Fulton was also a passionate supporter of Greenpeace. Her enthusiasm for bringing joy through food will be remembered through her cookbooks, including the indispensable The Margaret Fulton Cookbook that was a runaway hit in 1968, selling more than 1.5 million copies around the world and making her a household name. She shared her love of cooking and did it with great style. Fulton was a true legend, a national treasure and an excellent role model for how to grow older with grace. She apparently continued her yoga and strength-based exercise well into her later years. Fulton never retired, even after a quadruple bypass in 2005.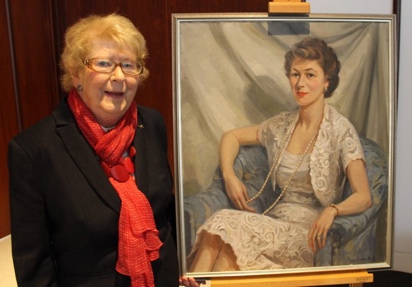 Dr Ann Moyal AM, FRSN, FAHA, who died on 21 July 2019 at age 93 was a celebrated historian and prolific figure at the Australian National University. She pursued the history of Australian science and technology through her many books and publications. Her two major works are her monumental official history of Telecom, Clear Across Australia: A History of Telecommunications (1984), and A Bright and Savage Land: Scientists in Colonial Australia (1986), both considered pioneering volumes in their field. Her first autobiography, Breakfast with Beaverbrook: Memoirs of an Independent Woman, was published in 1995 to much acclaim, followed by A Woman of Influence: Science, men and history in 2014. In 1995 she helped establish the Independent Scholars Association of Australia (ISAA) and served as its President until 2000. I am privileged to serve on the ISAA National Council and NSW Chapter and admired her continued involvement as a visitor to national council until very recently.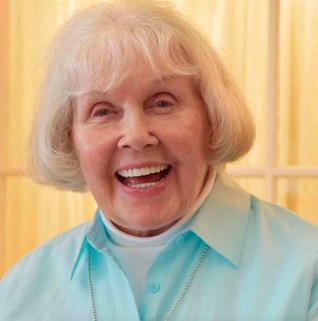 Doris Day, American actor, singer and animal welfare activist died on 13 May 2019 at the age of 97. Day became one of the biggest film stars in the early 1960s but her interest in animal welfare and related issues is less well known. In 1971, she co-founded Actors and Others for Animals, and appeared in a series of newspaper advertisements denouncing the wearing of fur. In 1978, Day founded the Doris Day Pet Foundation, now the Doris Day Animal Foundation that funds other non-profit causes throughout the US that share DDAF's mission of helping animals and the people who love them. She formed the Doris Day Animal League in 1987, a national non-profit citizen's lobbying organization whose mission is to reduce pain and suffering and protect animals through legislative initiatives. Day contributed $250,000 towards the founding of the Doris Day Horse Rescue and Adoption Center, which helps abused and neglected horses, and opened in 2011 in Texas.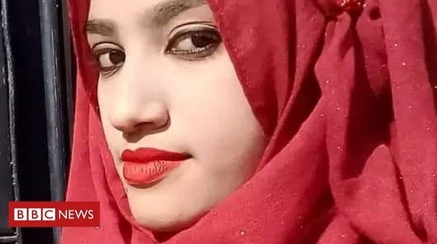 Earlier this year Nusrat Jahan Rafi was set on fire for refusing to withdraw a sexual assault claim against her principal at the Islamic seminary where she studied, in a town near the Bangladeshi capital of Dhaka. Five days later on 10 April 2019, the 19-year old died from her horrific injuries, suffering burns to 80 percent of her body. Before her death, however, she was able to give one final statement to police describing the attack. It is alleged\ that the principal, who was arrested by police after Rafi accused him of harassment, planned her murder from jail, which was carried out by men – some thought to be fellow students – disguised in burkas. They 'lured' Rafi to a rooftop at the school, where she arrived to sit her final exams, asking her to withdraw the complaint. When she refused, they bound and gagged her, poured kerosene all over her body and set her on fire. Now 16 men, including the principal and two local politicians, have been charged with her murder – and the Bangladeshi Prime Minister, Sheikh Hasina, says the men will be 'brought to justice'.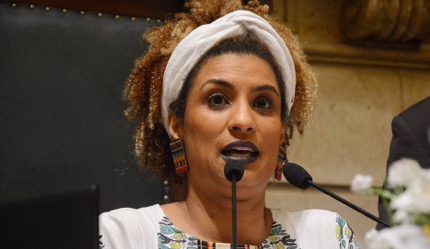 Marielle Franco, rising Afro-Brazilian politician, feminist and human rights activist died aged 38 in a brutal targeted assassination in Rio De Janeiro on 14 March 2019. On the anniversary of her death this year two police men have been arrested for her murder. Protests are still being held across Brazil. Franco was a gay black woman who defied the odds of Rio politics to win the fifth-highest vote count among council members when she was elected in 2016. She was a ground-breaking politician who had become a voice for disadvantaged people in the teeming favelas that are home to almost one-quarter of Rio's population, where grinding poverty, police brutality and shootouts with drug gangs are routine. An expert on police violence, just before her death she had accused officers of being overly aggressive in searching residents of gang-controlled shanty towns.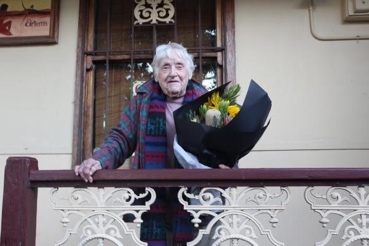 Margaret Jones, a local NSW activist and one of Redfern Legal Centre's longest serving volunteers passed away on 2 February 2019 aged 91. She was a woman who always marched to the beat of her own drum, devoting her life to social justice politics, especially advocating for women's liberation, the union movement and LGBT rights. After leaving school at 14 to join the workforce and support her family, she cut her teeth as a 'Girl Friday' in law offices during the 1940s and maintained a successful career as a managing clerk at various Sydney law firms. A self-described lesbian separatist and a passionate feminist, she bravely came out as a lesbian in the 1950s, and became a founding member of CAMP Inc, the first gay and lesbian rights organisation in Australia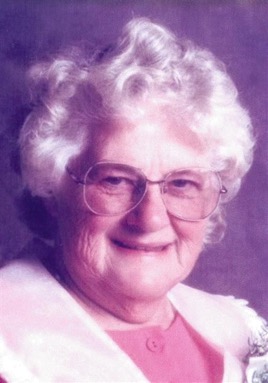 Dr Helen Dunsmore OBE, the oldest member of Graduate Women Scotland died at 93 after a sudden illness on 7 January 2019. She completed a PhD in Physical Chemistry at Glasgow University and took up a fellowship by the National Research Council of Canada in Ottawa. On return she trained as a teacher and then did research in Sweden. Dunsmore's brilliant career dedicated to science made her sensitive very early on to the few women in this sector. She was the first woman president of the Glasgow Association of University Teachers and became involved in the International Federation of University Women, now Graduate Women International. Her qualities brought her to the presidency in 1983-1986 and she was one of the first presidents of the University Women of Europe from 1988-1994.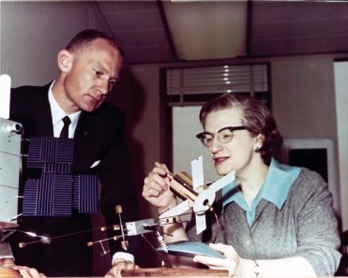 Nancy Grace Roman
Longtime American Association of University Women member and renowned astronomer, Nancy Grace Roman died on 25 December 2018 at age 93. In a time when women were discouraged from studying mathematics and science, Roman became a research astronomer and was instrumental in taking NASA's Hubble Space Telescope from an idea to reality and establishing NASA's program of space-based astronomical observatories. Affectionately known as the "Mother of the Hubble" for her role in developing the Hubble Space Telescope, Roman was the first chief of astronomy in the Office of Space Science at NASA and the first woman to hold an executive position there. In this image, Roman explains the Advanced Orbiting Solar Observatory to astronaut Buzz Aldrin in 1965 in Washington (and she is one of four "Women of NASA" Legos!).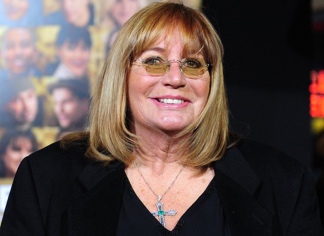 Penny Marshall who died on 17 December 2018 aged 75 was a rarity: a successful female film-maker in Hollywood following her success as an actor and then director of Jumpin' Jack Flash (1986). Her delightful comedy Big (1988), starring Tom Hanks, became the first film by a female director to gross more than $100m. The box-office triumph of Big was repeated with A League of Their Own (1992), a comedy in which Hanks played the manager of a wartime women's baseball team and Madonna and Geena Davis also starred. Marshall was the second woman director to be nominated for an Oscar for her film Awakenings (1990).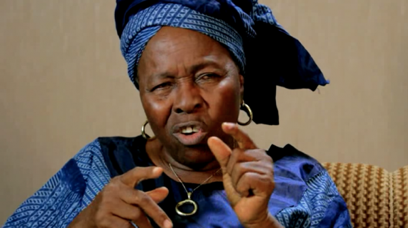 Professor Abosede Olayemi Sophie Oluwole, prominent Nigerian philosopher and scholar died on 15 December 2018, aged 83. Her truly remarkable professional career and achievements reveal her contributions to defending African culture. Oluwole's analysis of Democracy or Mediocrity is provocative: democracy is based on universal suffrage and eligibility, but, while the right to vote as a basic political right is beyond question, universal eligibility is a little more problematic. Humans are different in both qualities and abilities; consequently, not all people are equally qualified to exercise power. Thus, the problem of modern democratic societies is their neglect of the "specification of the qualities which justify the appointment of a member of the state to hold the reins of government." Oluwole contributed relentlessly to the course of women and humanity in general.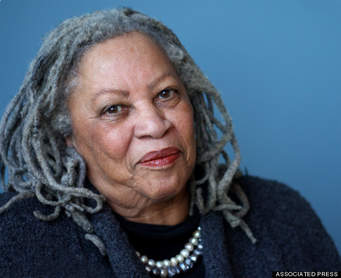 As I complete this blog, I have read of the death of one of my favourite writers, Toni Morrison on 5 August at the age of 88. Toni Morrison, the Pulitzer Prize-winning author who illuminated the joys and agonies of black American life through breathtakingly vital works like Beloved, Song of Solomon and A Mercy. Over her six-decade career, she wrote 11 novels, five children's books, two plays, a song cycle and an opera. She served as an editor and professor, mentoring generations of young writers of color. After being largely ignored as a writer for a decade in the '70s, Morrison went on to win accolade after accolade, from the Nobel Prize in Literature to the Presidential Medal of Freedom to the PEN/Saul Bellow Award for Achievement in American Fiction. "I've spent my entire life trying to make sure the white gaze was not the dominant one in any of my books," she said in the 2019 documentary Toni Morrison: The Pieces I Am.
"We die. That may be the meaning of life. But we do language.
That may be the measure of our lives." (Nobel lecture, 1993)
Greetings of love and peace
Shirley Randell