Dear Friends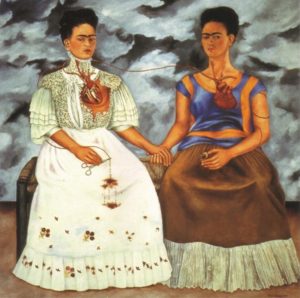 I have returned to Australia after a three-week visit to Mexico City, Atlanta and Los Angeles. I was especially pleased to return to Mexico – the birthplace in 1907 of my favourite artist, Frida Kahlo, whose home and museum I visited when at the International Federation of University Women's biennial conference seven years ago. In addition to being an amazing artist, she has become a feminist icon, particularly for women of colour, LGBTIQ people and women with disabilities. Kahlo had originally hoped to be a doctor, but polio as a child and a traffic accident as a teenager left her with on-going physical injuries and unable to follow her original dream. While recovering, she picked up art, an old hobby from her childhood, and turned her canvases into commentary on gender, race, class, and identity. This painting, The Two Fridas was completed shortly after Kahlo's divorce with Diego Rivera depicting her two different personalities and her desperation and loneliness after the separation. One is the traditional Frida in Tehuana costume with a broken heart, sitting next to an independent, modern dressed Frida. Later Kahlo and Rivera married again.
This is again a long newsletter but I hope you will skim through the headings that follow in case there is a subject of particular interest to you at this time….

---
Recent Travels.
Mexico.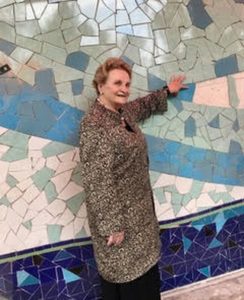 Frida Kahlo's work dealt explicitly with some taboo subjects in the first half of the 20th century: miscarriages, gender inequalities and the personal lives of women. When other artists stuck to traditional depictions of female beauty, Kahlo showed birth, breastfeeding and disability with a raw honesty totally unparalleled. She challenged what being a woman was meant to be, what being a Mexican in a post-colonial world was meant to be, and has become an icon for minorities the world over to achieve whatever they want, regardless of circumstance. She married Diego Rivera, a renowned muralist and important figure in Mexican art. I recently saw a beautiful small travelling exhibition with some fascinating photographs of them at the New South Wales Art Gallery.
Throughout Mexico City there are amazing murals on many walls, including in the National Autonomous University of Mexico. I had the opportunity of seeing a mural in progress by artist Martha Ortiz Sotres, and the pleasure of placing one of the coloured tiles under her supervision.
A particular privilege was the work of international sculptor Glenda Hecksher (photo) who was my generous host. Her home and gardens are full of her magnificent sculptures and it was a delight to watch her at work in her atelier. The Mexican Federation of University Women (FEMU) had invited me to speak at their breakfast assembly and also to lecture at the Museum for Women that FEMU had inaugurated in 2010, featuring the work of many women artists and including three lovely sculptures by Glenda. My third shorter speech was at the launch of a menstrual mixed media art exhibition in the Museum. Since the 1970s women have been using menstrual blood in their work but many continue to be repulsed because menstruation is one of the last taboos in our culture. Simply being a woman and revealing the natural processes of the female body is still a revolutionary act in some circles. The fight for women to assert their bodies on their own terms as a central subject continues. FEMU must be one of the most active federations of Graduate Women International. FEMU members hosted me for breakfasts and lunches in some wonderful restaurants and Secretary General Lucia Guzman welcomed me to her home in the State of Mexico over the weekend. I have been reporting on my journeys and experiences on Facebook when I have time: so if any of this travel news is of particular interest please follow my journey there.
Atlanta, Georgia.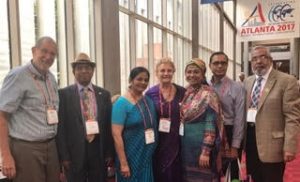 My next stop was the Rotary Convention with over 40,000 delegates, including fellow Rotarians from my old Bangladesh club (photo with Michael Arietti). I was last in Atlanta in 1996 with my daughter Ellen who was coaching Australian women rowers. I shared a hotel room with my friend Christelle Balikwisha from the Democratic Republic of Congo and met up with friends from Rwanda, Anne Gahongayire, former Secretary General of Rwanda's Supreme Court, now teaching at Oglethorpe University, and Michael, former US Ambassador to Rwanda and his wife Lesley Arietti.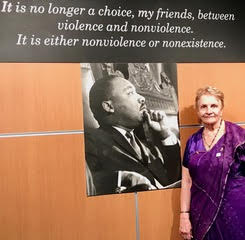 The Ariettis and I had a splendid visit to the Martin Luther King Jr National Historic Site. Established in 1968 by Coretta Scott King, The King Center is the official, living memorial dedicated to the advancement of the legacy of Dr King, leader of America's greatest nonviolent movement for justice, equality and peace and receives more than 650,000 visitors annually from all over the world (photo). The King Center utilises diverse media, including books, audio and video cassettes, film, television, CDs and web pages, to reach out far beyond its physical boundaries to educate people all over the world about King's life, work and his philosophy and methods of nonviolent conflict, reconciliation and social change.
Los Angeles.
My third stop was in California, again to catch up with friends and colleagues. I stayed at the magnificent home of Fay Weber, with whom I served for many years on the board of the Virginia Gildersleeve International Fund, and was well entertained by her son Michael Weber who visited my home in Sydney earlier in the year. I also attended the La Cuisine Club of the local American Association of University Women.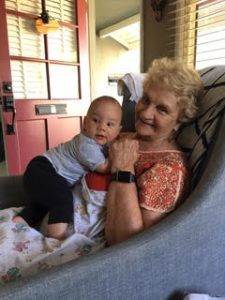 It was a joy to meet two of my houseguests in Rwanda again: Dr Helene Baribeau, Country Director, Water for People in Rwanda who has since had years of assignments with Médecins Sans Frontières in Haiti; and Elizabeth Scharpf, Sarita Bhatt and baby son Niran  (photo) at Santa Barbara.  Elizabeth is Chief Instigating Officer of Sustainable Health Enterprises, the Rwandan business making cheap sanitary pads from banana fiber.
It has been very interesting to be in the US, post President Donald Trump's withdrawal from the Paris Climate Agreement. This decision now puts US in the company of both Nicaragua and Syria as the only three countries in the world not to be committed. The environmental ambitions of a wide range of local and state US and foreign governments as well as businesses are carrying on with their existing efforts to reduce carbon emissions and are creating broad coalitions to achieve even bigger gains.
The President of France, Emmanuel Macron called on all the US scientists, engineers, entrepreneurs, and responsible citizens who were disappointed by the decision of the US president to come and work in France, to work together on concrete solutions for our climate. "Wherever we live, whoever we are, we all share the same responsibility to make our planet great again".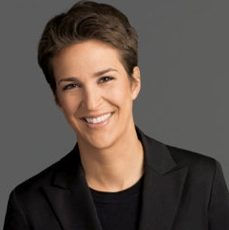 I have very much enjoyed listening to Rachel Maddow (photo) one of the first openly gay US television hosts, political commentator and author leading a nightly television show on MSNBC that has recently been recognised as the number-one prime-time news show on cable television.
International Aid.
Marie-Claude Bibeau, Canada's International Development Minister, has unveiled Canada's first feminist international assistance policy aiming to spend 95% of its budget on equality and empowerment by 2021. The Women's Voice and Leadership Program will allocate $150 million to the needs of local women's organisations in developing countries. At least 50% will go to sub-Saharan Africa.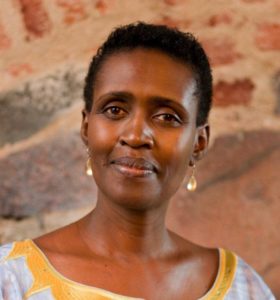 Winnie Byanyima (photo) Ugandan and executive director of Oxfam International has been in Australia to give the opening address at Progress 2017. She said that there are eight men in the world who own as much wealth as the poorest half of humanity. This extreme wealth is undermining democracy and social cohesion, and does not make "moral, economic or social sense." Byanyima said that not enough of us are accepting the moral argument against economic inequality. "We have an economy that is built for the 1% and is rigged against the rest of us…Rich men benefit from exploiting women at the bottom of the economic pile." She added that Australia can take a lead on tackling climate change, as long as enough people stand up to political and economic elites.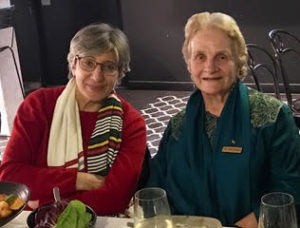 Another eminent visiting speaker to Australia was Dr Sima Samar (photo), Chair of the Afghan Independent Human Rights Commission, and it was such a privilege to meet and spend time with her again. Dr Samar founded the university where the Women's Empowerment Centre, supported by indigo foundation, is based and young women are now studying on scholarships. In answering a question about how she carries on in such a challenging environment as Afghanistan, she said: "The reason I am tough was because I had the tool that was my education, otherwise even my own family was thinking that I am their property…and I thought that I belonged to myself. So it is really very important to give the confidence and self-confidence through education to these girls to stand and live again with dignity."
I chair indigo foundation's Development Committee and Dr Samar's words ring true across our programs in many countries. The women we work with around the world are indeed tough. In the face of poverty and inequality, they are formidable leaders empowered by education, training and community support. Our local partners continue to make a difference, educating and empowering girls and women, improving lives in their communities and building strong and inclusive grassroots organisations. Donations to indigo foundation are welcome as we establish a new partnership with PEKKA (Women Headed Household Empowerment) in Indonesia that will give 200 women heads-of-household the chance to enrol in PEKKA's Women's Empowerment School; expand access to sexual health education, counselling and testing through Club Rafiki's 'Family Friendly Centre' in Rwanda; and improve the chances that a girl will get through school and into university in Afghanistan. Because of our lean model, volunteer-based with a virtual office, we can be confident that our donations will go a long way to directly support grassroots organisations making a big impact.
Obituary.
There was widespread expression by individuals, organisations, institutions and nations across the world of a collective sense of loss and sorrow at the passing of Dr Babatunde Osotimehin, Executive Director of the United Nations Population Fund (UNFPA), a position he had held since 2011. Dr Osotimehin was a remarkable champion of the lead UN agency on reproductive health matters. Under his leadership, UNFPA has become known for its worldwide campaign against early and forced child marriages, obstetric fistula and female genital mutilation in many parts of the world where these practices are rife. The world has lost a true advocate of health, human rights and wellbeing for all – a global public health advocate who was admired for his passion and commitment to improving the health of women and girls.
Now for my usual round up of women's news from around the world.
Women in Sport.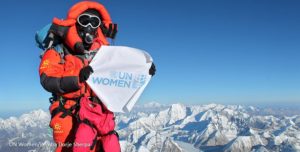 Kanchhi Maya Tamang (photo) 28 from the Sindupalchowk district of Nepal has summited Mount Everest for gender equality in sports.  After an 11-hour-climb from Camp 4 on Everest's South Col route, Tamang, together with Pemba Dorje Sherpa, and their Sherpa teammates reached the 29,035 feet (8,848 metres) summit of the world's highest peak on 20 May. It was the first time someone has climbed Mount Everest for gender equality and women's empowerment.
"My win is a win for all women and girls. And my mission is to contribute to a discrimination-free Nepal where all girls and women have freedom and an enabling environment to realise their full human potential." Tamang emphasised the importance of supporting and motivating more women and girls to try mountaineering and all sports: "For many Nepali women and girls there is an invisible Everest between their homes and the sports field. I have climbed Everest to empower women who are climbing their own mountains."
Ganesh Gurung, a member of UN Women's Nepal Civil Society Advisory Group, which supported Maya's mission said: "Kanchhi Maya has proven to the world and to Nepali society that women possess the capacity to reach any height."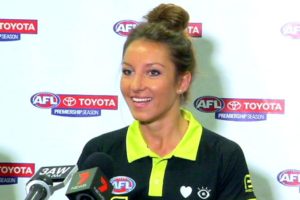 Elena Glouftsis (photo) 25 has been appointed the Australian Football League's (AFL) first woman field umpire. She hopes her debut will open doors for other young girls who may consider umpiring as a career path. Tracey Gaudry will be the next chief executive of Hawthorn Football Club, marking the first time an AFL club has ever had a woman leading at the top. Formerly General Manager with Athletics Australia, Gaudry is also a former Olympic cyclist (representing Australia in the 1996 and 2000 Olympics), and describes herself as a "typical kid" growing up in Victoria, "kicking the footy about the oval on the weekend…It is a privilege to have built a career in sport over two decades, and to have the opportunity to bring all of my knowledge and experience in national, international, sport-specific and whole-of-sport roles to Hawthorn."
Australia's female cricketers are among the very best sportspeople Australia has ever produced, having captured six of the 10 World Cup titles and winning more than 87% of the matches contested, an astonishing figure. Today's team is ranked number one in the world across all three formats of the game.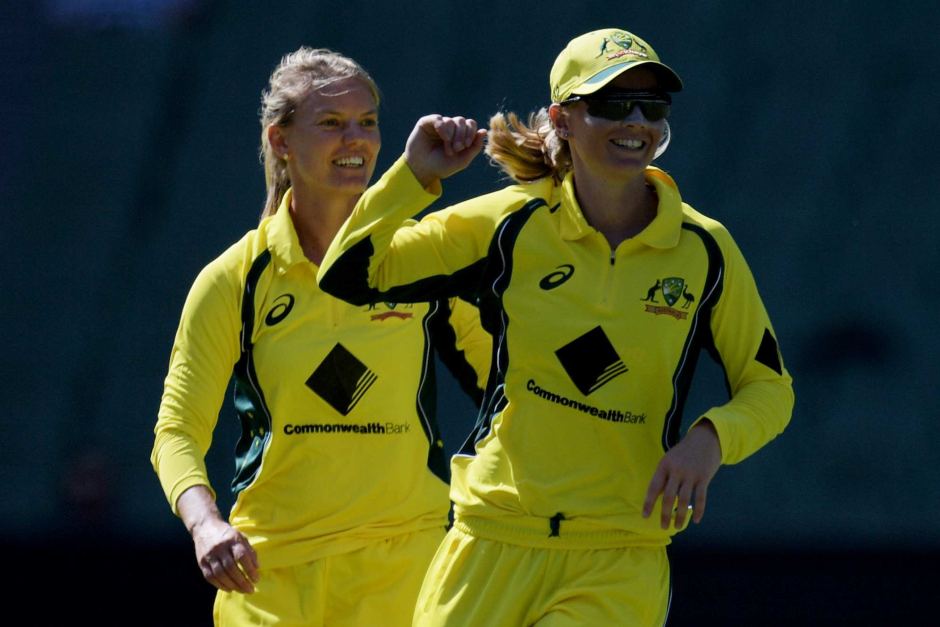 The photo is of Kristen Beams and Meg Lanning celebrating a wicket. The Southern Stars have decided to change their name to the Australian Women's Cricket Team. Women in most Australian sporting codes are fighting for gender pay equity, a fair living wage for all female athletes, equal media coverage and equal access to sports facilities, stadiums and amenities for women and girls as players and supporters. National sporting codes are now staging women's leagues and competitions. But female athletes continue to be underpaid and poorly supported off the field and women employed across the sports industry remain under represented in leadership, administrative and management roles, advocacy, mentoring, workshops and social media. Fox Sports TV recently agreed to show top Australian women's basketball league games. Serena Williams returned to the top of the Women's Tennis Association world rankings and immediately shared the news about her unborn baby and that she will be skipping tournaments for the rest of the year.
Women in Politics.
French President Emmanuel Macron delivered his pledge of gender parity and unveiled a gender-balanced cabinet with 11 of 22 posts taken by women (photo).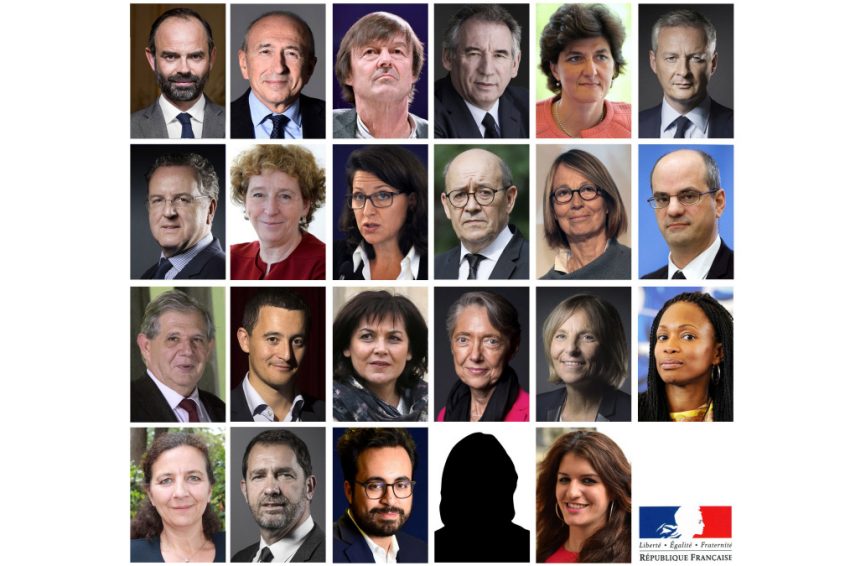 Sylvie Goulard is defence minister while Olympic fencing champion Laura Flessel is sports minister. Half the list of candidates for the parliamentary elections included figures from France's civil society. Agnès Buzyn, is health minister: a well-known health professional, who has headed the haematology department at the Necker children's hospital in Paris as well as France's national cancer institute. Sophie Cluzel, has the role of disabilities minister. Her four children include a daughter with Down's Syndrome. Sibeth Ndiaye, 37, born in Senegal ran the press-relations side of Macron's presidential campaign and now has the task of doing the same for his presidency. She only became a naturalised French citizen last year. Nicolas Hulot, a well-known campaigning environmentalist, becomes ecology minister. France voted a record number of women into parliament. Of the 577 newly elected lawmakers, 223 were female, beating the previous record of 155 set after the last election. That sent France leapfrogging from 64th to 17th in the world rankings of female parliamentary representation and to 6th place in Europe, overtaking Britain and Germany, according to Inter-parliamentary Union data compiled at the start of June.
Provisional election results in Niue indicate a boost to women's representation in Niue's parliament from two to five women now in the 20-seat legislature.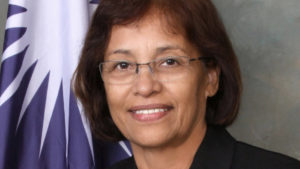 The US has its first female State President Dr Hilda Heine (photo) in the Marshall Islands, the first female leader in Micronesia, and only the fourth woman to lead in a country in the entire Pacific, following New Zealand's Jenny Shipley and Helen Clark and Australia's Julia Gillard. Even before her election, President Heine was a household name in the Pacific for the work she has done in making space for women's voices in public discourse. She founded Women United Together Marshall Islands, a women's rights organisation that brought together individual women's groups from across the archipelago to amplify their voices on issues like human rights advocacy, women in leadership, climate change, and violence against women. She is a huge advocate for action against climate change and the looming risk of rising sea levels for the islands of the Pacific. "The land is very much connected to our culture and us as a people…it's important we remain there".
There is no doubt that Prime Minister Therese May made a huge mistake in going to the polls early. The good news is that more women were elected to the United Kingdom parliament than ever: there are now 208 female MPs (32%), although the Tory gender balance is worse. In a plus for diversity, a record number of black and minority ethnic persons (52 MPs), LGBT (45) and MPs with disability were elected. For the first time, more than half of those elected were educated in state schools. Kenyan activists have welcomed a High Court ruling giving parliament 60 days to ensure a third of lawmakers are women or face dissolution. The ruling follows a lengthy struggle to increase women's political representation in the patriarchal society. Kenya's 2010 constitution guarantees women a third of seats in parliament, but its male-dominated assembly has repeatedly frustrated efforts to pass legislation needed to enact the quota. Women vying for office in Kenya frequently face violence and intimidation in a country where women in politics are frowned upon. They also often lack the political clout and money to get nominated by the major parties. Kenya, which heads to the polls in August, has East Africa's lowest representation of women in parliament at 19 percent, compared to 61 percent in Rwanda and 38 percent in Ethiopia.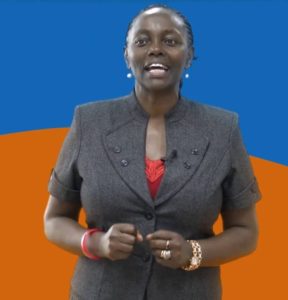 Meanwhile, in Australia, Kenyan-born Lucy Gichuhi (photo) has taken a seat in the Federal Senate. A lawyer, Gichuhi migrated to Australia in 1999, became an Australian citizen in 2001 and has never held dual citizenship. She grew up with next to nothing on the slopes of Mount Kenya, walking barefoot to school, sharing a bed and single blanket with her eight sisters. After school, she worked gathering food for her family. In her first wide-reaching speech in Parliament, witnessed by her family, members of her community and leaders from both the major parties who visited the floor of the Senate to listen, Senator Gichuhi set out her agenda and her passions, speaking of education, the need for good governance, financial literacy, welfare reform and the importance of proper and well-funded aged care.: "Being the only black African-Australian senator is my point of difference…What we do with our differences, our unique gifts, is our choice. Let us choose wisely."
Women in Leadership.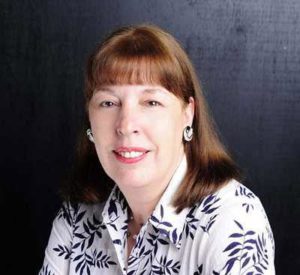 Two women have been named to highly visible posts at the UN: Pramila Patten of Mauritius is the new special envoy on sexual violence in conflict; and Virginia Gamba (photo) of Argentina, is special envoy on children in armed conflict. Patten is among 14 women named to senior positions by Secretary-General António Guterres in his tenure since 1 January, out of 31 appointments so far. Rowing Olympic gold medallist Dame Katherine Grainger has been appointed chairperson of United Kingdom Sport. Along with the gold she won with Anna Watkins for Great Britain in the double sculls at the London 2012 Olympics, Dame Katherine also has four silver medals and is the first female from the country to make the podium at five consecutive Games, starting at Sydney 2000. Alex Mahon, an outstanding leader and highly experienced chief TV executive in the UK, who has developed and grown major international businesses in both the creative and technology sectors, has become the first female chief executive of Channel 4 in its 35-year history. Cressida Dick with a reputation for calmness and toughness is the first female commissioner to lead the Metropolitan Police in its 188-year history. An Oxbridge graduate, she has a wealth of operational experience and achievement unsurpassed by previous commissioners.
Professor Dawn Freshwater, a professor in mental health, with her research focused on psychological therapies and offender health, has been named Vice Chancellor of the University of Western Australia. Women now run four of the five universities based in WA. University of Notre Dame VC, Celia Hammond, has the longest service having been there since 2008. Deborah Terry was appointed to the Curtin University in 2014 and Eeva Leinonen joined Murdoch University as VC in 2016.  Sue Kench has been appointed as the Global Managing Partner for King & Wood Mallesons, stepping up from her current position as Chief Executive Partner Australia.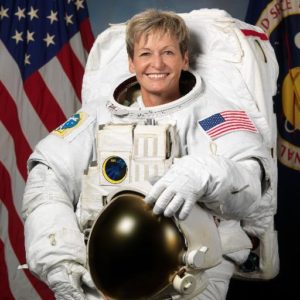 The International Space Station's commander, Astronaut Peggy Whitson (photo) has broken the US record for the most accumulated time in space for an American: 534 days, two hours and 48 minutes. She called the space station "a key bridge" between living on Earth and travelling into deep space, and singled out the station's recycling system that transforms astronauts' urine into drinking water. Whitson 57 is the oldest woman in space and was already the world's most experienced spacewoman and female spacewalker. By the time she returns to Earth in September, she will have logged 666 days in orbit over three flights. Russian Gennady Padalka holds the world record of 879 days. Professor Valerie Hudson, George HW Bush Chair in the Bush School of Government and Public Service at Texas A&M University has been named one of the top 100 Most Influential Global Thinkers by Foreign Policy magazine for her research showing gender imbalances have global consequences. She argues that legal prohibitions against gender discrimination and violence are insufficient to solve the problem. Education programs are needed so that women know their rights and men can embrace non-violent models of manhood.
Former Malawi President Joyce Banda (photo) has joined Akilah Institute for Women as Honorary Chancellor. Akilah's long track record of educating women leaders in Rwanda mirrors Banda's own commitment to advancing women's participation in the private and public sectors. I have been proud to be an Advisory Committee member of Akilah. By pioneering a results-oriented, women-focused approach to leadership and workforce education, Akilah is equipping women with the skills they need to assume leadership roles in their homes, communities, and countries. Sydney has won a global bid to host the next meeting of the 2018 Global Summit of Women when it was backed by leading male and female business and political leaders who want to showcase Australia as a nation striving for gender equality. The 'Davos' for women event will be held in Sydney next year. It is expected to attract more than 1000 business and government leaders from 80 countries, and inject more than $2 million into the New South Wales economy.
Women in Africa.
UN Women Executive Director, Phumzile Mlambo-Ngcuka travelled to Rwanda to participate in the Transform Africa Summit that has become a landmark forum on Information and Communication Technologies (ICT) in the continent, gathering around 4,000 participants annually.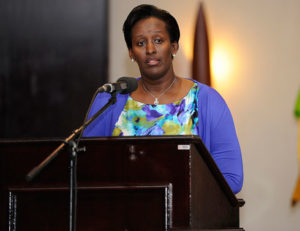 The Smart Africa Women's Summit followed, led by the First Lady of the Republic of Rwanda, Jeanette Kagame (photo) and other African first ladies, as well as leaders from the private sector, civil society and the academia, aiming to highlight the strategic interventions that are being pursued to empower women and girls in ICT. UN Women, the African Union Commission, and the Permanent Mission of Germany have launched the African Women Leaders Network, a ground breaking initiative that seeks to enhance the leadership of women in the transformation of Africa with a focus on governance, peace and stability. The Network was launched following the three-day High-Level Women Leaders Forum for Africa's Transformation, which took place at the UN Headquarters in New York. The Network aims to harness the wealth of African women's experiences of leadership, build on other existing and emerging networks of women leaders, as well as developing new partnerships to strengthen the capacity of women. It intends to support the advancement of more women leaders on the continent, through peer learning and mentoring, to enhance their contributions to building and sustaining peace, security and political processes for sustainable economic and social transformation, towards the realization of Africa Agenda 2063 and 2030 Agenda for Sustainable Development. At grassroots level, women have been at the forefront of community peace-building in post-conflict countries including Liberia, Rwanda and more recently in Burundi. They have also led efforts to counter the Ebola epidemic of 2014-2016 that swept several countries across West Africa.
Women in Asia.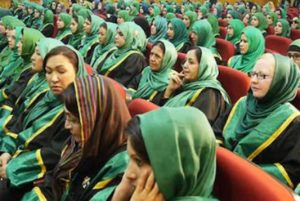 The head of the Afghan Women Judges' Association, Shakila Abawi Shagarf, announced last month that there are now 260 female judges (photo) in Afghanistan as of this year. While the majority, 225, are in the capital of Kabul, there are 21 in Harat, 11 in Balkh, two in Takhar and one in Baghlan provinces. During the Taliban regime that fell 16 years ago, there were no female judges. Afghan President Ashraf Ghani has not yet fulfilled a campaign promise to put a woman on the country's nine-member Supreme Court. In 2015 he nominated Judge Anisa Rasooli to serve on the Court, but she fell 9 votes short of the 97 needed to put her on the bench. Despite the persistent Taliban terrorist attacks, Afghanistan is a nation that continues to make considerable progress, especially for women. The maternal mortality rate has fallen dramatically and women's athletic clubs have become popular social activities. Women are being encouraged to take roles in Science, Technology, Engineering and Mathematics, and 80% of Afghan women now have regular or occasional access to mobile phones.
Women in the Pacific.
Pacific Women Shaping Pacific Development (Pacific Women) is a 10 year $320 million Australian Aid program supporting 14 Pacific countries to meet the commitments made in the 2012 Pacific Island Forum Leaders' Gender Equality Declaration and working with Pacific governments, civil society organisations, the private sector, and multilateral, regional and UN agencies to achieve its intended outcomes. Other key sponsors in 2017 are ExxonMobil and Oil Search Ltd. The overall Pacific Women's program goal is for women in the Pacific, regardless of income, location, disability, age or ethnic group, to participate fully, freely and safely in political, economic and social life. UN research shows that the security and status of women are strong predictors of a country's overall stability. Women's exclusion leads to risky, parochial decision-making, while domestic violence provides a problematic template for resolving disputes outside the home. In their recent meeting Pacific Women discussed the effects of gender inequity on national security, the positive impact of women's empowerment on governance and decision-making, and the continuum between domestic violence and large-scale conflict.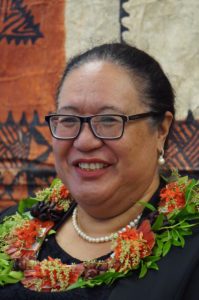 Fekitamoeloa Katoa 'Utoikamanu (photo) of Tonga has been appointed the new High Representative and Under-Secretary-General for UN Least Developed Countries, Landlocked Developing Countries and Small Island Developing States. She is currently Chief Executive Officer of the Ministry of Tourism, Tonga. Previously she was Acting Pro-Chancellor and Chair of the Council of the University of the South Pacific (USP) (2015); Deputy Pro-Chancellor and Deputy Chair of the Council of USP (2009-2016); Deputy Director General and Director of Education, Training and Human Development of the Secretariat of Pacific Community (2009-2015); Permanent Representative and Ambassador of the Government of Tonga to the UN, US, Cuba and Venezuela and High Commissioner to Canada (2005-2009); and Secretary for Foreign Affairs (2002-2005).
Women in Papua New Guinea (PNG).
The first Highlands Regional Forum was held at the University of Goroka, PNG earlier this year. This regional forum was held following requests from women across the nation to extend the annual Women's Forum beyond Port Moresby. Around 400 women and 100 men attended Strongim Toktok Bilong Yumi Wantaim (Strengthening Our Voices Together). The first day focused on leadership and politics with the aim of strengthening the 'power of our voices'. Discussions on the second day were focused on working towards women's economic empowerment.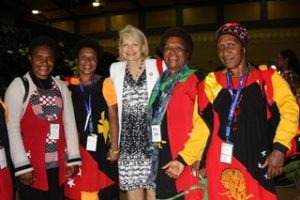 The Australian Ambassador for Women and Girls, Dr Sharman Stone attended the Forum on her first international trip as Ambassador (photo). Dr Stone reaffirmed Australia's partnership with PNG to improve the lives of women and girls in the country. Participants were appreciative of the opportunity to have women in leadership roles across the different spheres of government, public service, private sector, community and churches, and men supportive of gender equality to meet, network and learn from each other. The total number of women candidates in the upcoming PNG general election has risen above previous polls. The Electoral Commission has reported that a total of 3332 candidates have nominated to contest the 2017 election, based on official figures from each province. Of this number, 165 are women candidates.
Family News.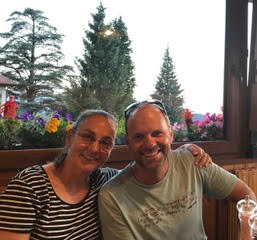 I returned to Australia with nearly all my children overseas. Andrew and Ellen are with their elite Australian rowing crews (photo at Andrew's 55th birthday in Varese). After training in Italy to become acclimatised, they competed at the second Rowing World Cup regatta in Poland, their new crews gaining a bronze medal, fourth and sixth places. Overall Australia finished with 5 medals (2 gold, 1 silver and 2 bronze) and were third on the medal table behind New Zealand and Poland. The team is back at the training centre in Varese and then on to Lucerne Switzerland for the final regatta. Partners Vicky and Adam are gallantly caring for their daughters while managing their busy employment, including Vicky's new full-time job coaching rowing at Radford College. Erica and Ian are currently in Europe visiting international art exhibitions at the Venice Biennale and Documenta in Kassel, Germany. Douglas is currently working as a Visiting Remote Medical Practitioner in Central Australia with several communities including those at Imampa (Mt Ebenezer), Tara (Neutral Junction) and Ali Curung (Warrabi). Julie has been in Seattle visiting with their son Nathan and Kaylin, and will be travelling to Ethiopia in July to volunteer at Raey School.
Indigenous Australia.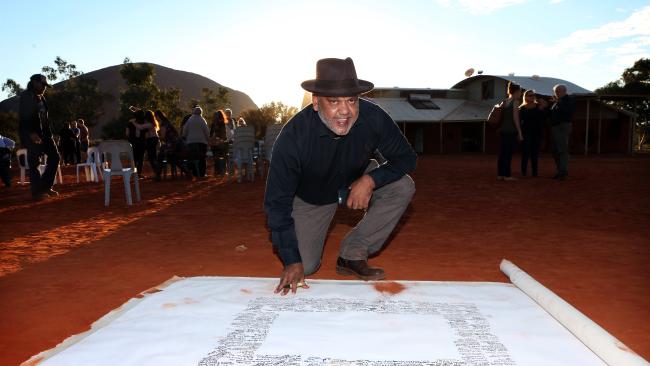 On the eve of the 50th anniversary of the 1967 referendum, in a sunset ceremony in central Australia, approximately 300 Aboriginal and Torres Strait Islander delegates from across Australia delivered the Uluru Statement from the Heart (photo). Convened by the Referendum Council, the statement put forth an Indigenous Australian position on proposed constitutional reform, rejecting constitutional recognition in favour of a treaty. Through the establishment of a Makarrata Commission (a body that would oversee agreement-making between governments and Indigenous groups), the Uluru statement expressed Indigenous peoples' "aspirations for a fair and truthful relationship with the people of Australia". Racism in Australia is not just echoed in the words of right-wing commentators or the jokes of professional football players and their followers; it is ingrained in our society, enshrined in our institutions and our legislation. Race is inescapable and it has been central to the realities of a nation forged on the invasion and colonisation of the first Australians. We cannot talk about building truthful relationships without being honest about the racialized realities of our social world. Race was the foundation on which this nation was built and it continues to structure our society, its institutions and social life. We can only hope that the federal government and the Australian people will listen and respond to Indigenous peoples' call for a "fair and truthful relationship" through a fair and truthful conversation about the power of race in maintaining power over Indigenous peoples' lives and lands.
[well size="sm"] from today i live out of my imagination
i am more than my yesterday
tomorrow i plant a new seed
nothing that lies behind easy
nothing that is ahead real
my within is all i have today
Napo Masheane [/well]
Blessings of peace and justice,
Shirley Randell