Dear Friends
I began this letter in New York at this year's 61st session of the Commission on the Status of Women at the United Nations headquarters (CSW 61). Four of us presented a joint paper for a parallel event on Health, Education, Sport and Women's Empowerment: narratives from Australia, Rwanda and Bangladesh.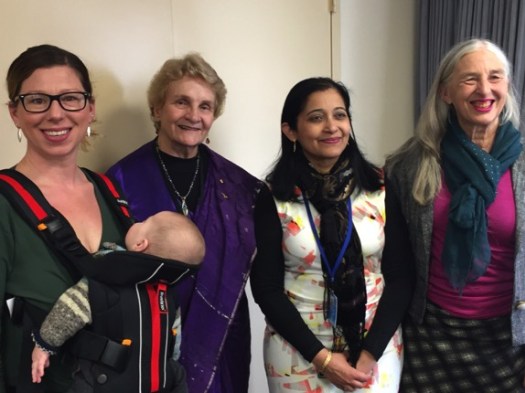 My companion presenters were Professor Dr Jaya Dantas from Curtin University, who concentrated on health and education while I spoke briefly on education in Rwanda and Bangladesh and then on sport. Shirley Gillett and her daughter Kat from New Zealand, spoke particularly about the bonding that sport brings to mothers and daughters
The theme of this year's gathering was Women's economic empowerment in the changing world of work. We highlighted how education and sport can lead to women's economic empowerment and improve health and wellbeing for women and their children. If you are particularly interested in CSW and women's sport read on… If your interest is more generally on world issues affecting women in various countries go to the section starting at Travels in the US

---

CSW was established in 1946 with a mandate to promote women's rights in the political, economic, civil, social and educational fields. It is also tasked with monitoring, reviewing and appraising progress achieved in the implementation of the Beijing Declaration and Platform for Action. This year nearly 4000 representatives from 580 civil society organisations in 138 countries, with 82 ministers and 6 deputy ministers of UN Member States and UN entities met to review progress toward gender equality, set global standards and norms, and formulate policies.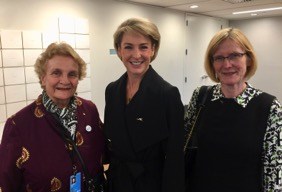 The Minister for Women and Employment, Senator Michaelia Cash, the Ambassador for Women and Girls, Sharman Stone and the Human Rights Sex Discrimination Commissioner, Kate Jenkins led the Australian delegation. The Australian Ambassador to the UN, Gillian Bird, welcomed us at a reception for delegates (photo).
With CSW61's emerging theme being Empowerment of Indigenous Women, the Australian Government selected wonderful Indigenous women, as two of the three NGO delegates with Elizabeth Shaw  the President of UN Women Australia: Jahna Cedar, the Executive Officer at Gumala Aboriginal Corporation, who has advocated for gender equality and Aboriginal and Torres Strait Islander (ATSI) reconciliation for over 18 years, and Leann Wilson, Executive Director of Business Development and Innovation for Regional Economic Solutions, who has worked extensively to progress the opportunities and advancement for ATSI people in Australia and to further the cause of women's leadership and empowerment.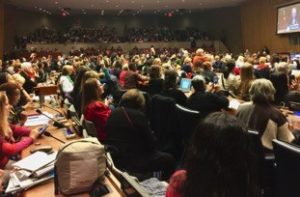 I took part in the Australian team and was also a member of the Graduate Women International delegation and associate of the Virginia Gildersleeve International Fund delegation to discuss progress and impediments to women and girls' empowerment. The meetings provide both the grassroots perspective of women and girls' issues, as well as high level policy discussions. NGOs have been influential in shaping the current global policy framework on women's empowerment and gender equality and continue to play an important role in holding international and national leaders accountable for the commitments they have made.
The Agreed Conclusions from CSW61 highlight barriers that women face, such as unequal working conditions, women's over-representation in the informal economy, gender stereotypes and social norms that reinforce women's concentration in certain sectors, such as health and social areas, and the uneven share of unpaid care work that women do. Despite the long-standing existence of international labour standards on equal pay, the gender pay gap, which currently stands at 23 per cent globally, persists in all countries.
Member States expressed concern over this and the persistently low wages paid to women, which are often below decent living wages. In the final agreement, member states committed to the implementation of equal pay policies through social dialogue, collective bargaining, job evaluations and gender pay audits, among other measures. They affirmed ensuring women's full and equal participation and leadership in the economy, as well as women's right to work and rights at work, as vital steps to achieving the sustainable development goals (SDGs).
Sport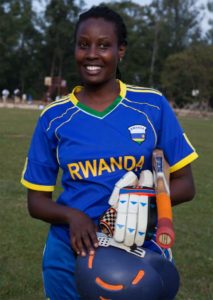 Of course as Ambassador for the Women's International Cricket League (WICL) my contribution to CSW61 concentrated on cricket, and in my presentation I highlighted the experience of three wonderful women cricketers. Cathia Uwamahoro (photo) captain of the Rwanda Women's Cricket Team, was born in 1993 in Kigali Rwanda. Her father was killed in the genocide against the Tutsi when she was six months old, and her single mother Cathia raised her. In 2008, she passed a group of boys playing and became interested. She learned by watching and "fell in love with cricket".
A national team player, Eric Dusingizimana, current captain and holder of the Guinness World Record for batting (51 hours continuously at the net) noticed Cathia and encouraged her to begin training with men as there was no women's team. The Rwanda Cricket Association soon established Kigali Combine for all girls from the various schools around the capital, coached by Dusingizimana.
In 2009, Cathia was selected as a member of the first national Under 19 team competing in several International Cricket Council (ICC) Africa U19 Women's Championships. She became captain of this team in 2013 and then captain of Charity women's team. In 2016, with a record 90 runs from 45 balls, she was named Woman of the T20 series won by CharityCC, and was recruited to Kampala Institute of Cricket Clubs Ladies. In 2017, she broke the Guinness World Record for Women by batting in net for 26 hours, both to promote women's cricket and to raise funds for Rwanda's new cricket stadium.
Heather Knight, England's women cricket captain, and Cathia's role model, bowled in the record attempt. Now Cathia is juggling sport and undergraduate studies. She says, "My secret is hard work and patience, whenever I step on the pitch, I always want to perform as if it is my last day on the pitch…my aim is to continue to work hard and improve game per game…My dream is that one day, I will lead the Rwanda national women cricket team to the ICC Division 1."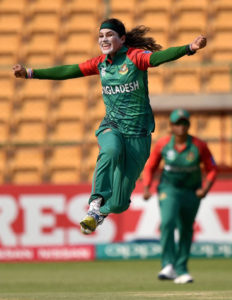 Jahanara Alam (photo) was born in 1993 in Khulna, Bangladesh. She played volleyball and basketball as a young girl because cricket was not very popular for girls and many people discouraged her. Not her father, however, who has always supported her, and now she has many fans. They pray for her in the mosques when she plays for the national team. Jahanara became a member of the Bangladesh national team in 2008 and was a member of the team that won the silver medal against the India women's cricket team at the 2010 Asian Games in Guangzhou, China. She has played in the One Day Internationals (ODI) cricket competition since 2011, capturing 16 wickets in her 17th T20 match and 17 wickets in her 25th ODI matches. In 2016, Jahanara was captain of the Bangladesh national team in the Women's ICC World T20 match in Bangalore India.
Born in Pune India in 1969,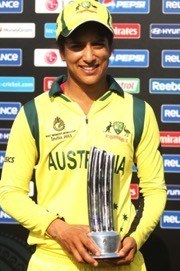 Lisa Sthalekar (photo) was an orphan who was adopted and raised in Australia. Her father, who loved and followed cricket, played with her outside, took her to watch matches, and ensured the best coaching. Lisa played with Under 10 boys' teams and at first tried to hide the fact that she was a girl, dressing in long pants and wearing a cap even while bowling. Later she played with and then captained the Combined High Schools Girls' team.
In 1998, Lisa made her State debut in the Women's National Cricket League (WNCL), played in 16 straight WNCL Finals between 1997 and 2013, in a record 145 matches, taking 166 wickets for an average of 22 runs, with a batting average of 34. Juggling study, sport and work, Lisa had to pay nearly AUD 3000 for flights, accommodation and other expenses in order to play for state junior teams in the 1990s. In 2006 she captained Australia in three ODIs against New Zealand, and was a member of the Australian teams that won the 2001 and 2011 Ashes – Australia/England. While playing, Lisa was also a coach and administrator at Cricket NSW.
A legend of Australian women's cricket, having played for her country 187 times, Lisa is the first female board member of the Australian Cricketers' Association (ACA) and has been part of the ACA's Women's Executive since its inception in 2009. She oversees the men's coaching program at Mosman and is the first Australian woman to commentate for men's Test cricket, beginning in 2015 for Channel Nine and ABC radio with the Indian Premier League (IPL), for the South Africa v Australia series, and now for Channel Ten. She says, "I love cricket, I am a cricket tragic. I think a female perspective on the game certainly can't hurt because there are so many women watching it as well."
Following the success of WBBL over summer and the burgeoning interest in women's sport in general, ACA has been under pressure to ensure cricket is a viable career pathway for female athletes. In a new five-year Memorandum of Understanding (MOU), ACA has offered an immediate average pay increase of 125 per cent for female players. The average salary for an international Southern Stars player is set to jump from $79,000 to $179,000, with the average for domestic female players from $22,000 to $52,000. The offer is an attempt to move towards gender equity by ensuring that the minimum and average hourly pay will be the same for state men and women in 2017/18. For the first time, prize money is being offered for the WNCL of $258,000 and the WBBL of $309,000 this coming summer.
The agreement is also set to see investment in grassroots player development rise, with ACA committing itself to finding an extra $25m so that the total funding for grassroots cricket would rise to $76m. The difference in conditions between male and female athletes is not new and is reflected in publicity for women's sport, which receives about 7% of Australian TV sports programming and 9% of sports coverage on the news. Low media coverage is reflective of the status of women's sport generally, perpetuating a lack of visibility of female role models in sports: a great many Australians – young and old, boys and girls – miss out on seeing what women athletes are capable of. Thankfully this is changing.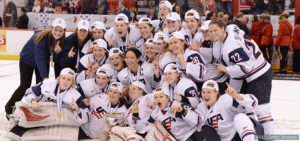 The struggle is not only in Australia. The US Women's National Ice Hockey team (photo) that has been one of the country's most reliable winners over the last two decades, never having left an Olympic Games without a medal, usually silver or gold, while also winning seven of the last nine world championships, announced earlier this year that it would boycott the upcoming world championships over the ridiculously low wages and lack of support it continues to receive from the national governing body, USA Hockey.
There is an urgent widespread call for change within the US Olympic world in the 21st century and respect for women in a sport led by men and for the acknowledgement of a job well done by a nation that craves winning more than almost anything else. Solidarity from both women and men's sports has led to a four-year deal for women in the national ice hockey team, with compensation of about $70,000 per player per year, a stunning jump from the pathetic $1,500 per year the players were getting. USA Hockey has also agreed to pay the players new performance bonuses and their income could rise to six figures annually if they win an Olympic gold medal or world championship. For the first time ever, the women's team will receive the same level of travel arrangements and insurance coverage as the men's team and there will be maternity support. There are provisions to advance women and girls' hockey at the youth levels, a cause that was important to the national team players. US Soccer has now announced that it has ratified a five-year collective bargaining with the women's national soccer team, ending a year-long contract negotiation following their Equal Play, Equal Pay campaign to highlight the pay discrepancy between the women's and men's national soccer teams.
Football. Major sponsors are bringing women's sport to our televisions and into the mainstream.  The Australian Football League's (AFL) inaugural women's competition opening match between Carlton and Collingwood overwhelmed the organisers who predicted about 12,000 fans would attend. Instead it was a lock-out – 24,500 fans and AFL chief executive Gillon McLachlan went outside the gates to apologise as hundreds more were turned away.
Women have not had that. Some local clubs don't even have female-friendly change rooms. These women are in it for the love of the game and realising their dream is a dream for so many others; for the 380,000 girls and young women who are currently playing AFL; for the hundreds and thousands of others who are now going to see it as an option; for parents, grandparents, aunts and uncles who, for their sons and daughters, want role models like Tiarna Ernst, the 28 year old Western Bulldogs player who is a full-time doctor and a part-time athlete. Or Moana Hope, Collingwood's marquee player, who works 18 hours a day juggling her job with her footy training, while being a fulltime carer for her younger sister who has a rare neurological condition.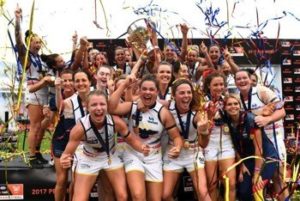 Or Daisy Pearce, a 28-year-old midwife, who will captain the Melbourne Football Club. At the end of the season it was the Adelaide Crows (photo) who were victorious over the Brisbane Lions, winning the first AFL premiership by one goal. Erin Phillips, a former basketball star, added the AFLW trophy, a best-on-ground award and the AFLW inaugural best and fairest award to her two Women's National Basketball Association titles and an Olympic silver medal from her time with the Opals.
On the other hand, the National Rugby League (NRL) chief executive Todd Greenberg has said that despite the AFLW success the NRL that will not rush the launch of a women's rugby league competition. Currently Australia has about 40 elite female rugby league players. "I think in this space we're spending a lot of time and energy on the Jillaroos to make sure our elite female pathway is strong…We have absolute aspirations to introduce more competition pathways for females, but in saying that we want to build from the ground up…I don't want to start a competition without having the substance below it." This is in spite of the fact that female participation is the fastest-growing area of rugby. As of last year, 482,000 women were involved in playing rugby league, which is a 27 per cent increase on the previous year. The code has aspirations of introducing a competition by 2020. The NRL has vowed to spend more money in country regions than ever before to help boost participation numbers in the game that has been overtaken by football and soccer.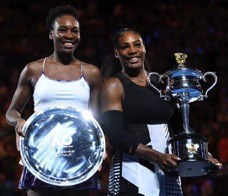 Tennis. Venus Williams described her sister Serena William's Australian Open victory (photo) as a "beautiful thing" and believes her younger sibling will add more major singles titles to her tally of 23 before she decides to retire. Serena achieved an open-era record for major singles crowns when she beat Venus 6-4, 6-4, moving in front of Steffi Graf but still sitting behind Margaret Court (24) on the all-time list. Venus showed joy rather than disappointment when reflecting on Serena's victory, explaining it is as much a win for the Williams family as it is for her sister. "I really enjoy seeing the name 'Williams' on the trophy." she said. A humble Venus acknowledges her place in one of sport's greatest stories, saying it has been "momentous" to have the opportunity to compete against her sister in nine major singles finals. "I don't think we're going for the greatest story in sports. We're just going for some dreams," she said. "In the case that we are, what an honour. What an honour."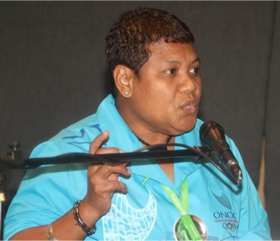 Sports boards. While women have seats at the table where major economic and financial decisions are made, they have not yet reached the top leadership positions in sport. Minister Baklai Temengil from Palau (photo) has been elected the first woman Vice-President of the Oceania Olympic Committee. A woman has never led the International Olympic Committee (IOC) or FIFA, football's international governing body, widely regarded as the most prestigious and influential sport organisations.
Men hold a staggering 93% of chair and president roles in international sport federations, and 81% of CEO positions. The consequences are serious. These sport organisations not only often fail to adhere to democratic or ethical business practices because some stakeholders are underrepresented, but also their performance is likely to be compromised.
Less diverse boards lack multiple perspectives that promote sound decision making, problem solving and strategic planning. Having a critical mass of women bodes well for an organisation's performance, including the level of innovation. The sooner sport governing bodies acknowledge the value of a critical mass of women on their boards and commit to achieving this, the better for sport worldwide.
The reason I am writing so much about women and sport is because of my role as WICL Ambassador. You are invited to join us in our endeavours to create a fully sustainable organisation that helps enable and empower women to pursue the professional field of their choice, and be remunerated fairly and equally.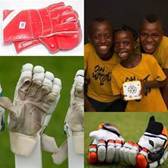 We are sponsoring an event with SolarBuddy, "Gloves Off for Opportunity" gala dinner at 6.30pm on Wednesday 7 June at the Sofitel Wentworth Sydney (photo).
Funds raised will allow us to create the next episode of our documentary series FairBreak in Rwanda, and provide SolarBuddy solar lights to third world communities in an effort to end energy poverty. You'll enjoy a night of music, entertainment, guest speakers and of course our Gloves Off panel discussion and auction of signed cricket gloves.
If you are interested, contact shaun.martyn@wicl.org or 0412332638 for further details.
Travels in the US.
Of course, almost every American I met was talking about their new President, Donald Trump and some TV programs are concentrating totally on politics. ln one of the President's first executive orders he reinstated the 'global gag rule', a policy that has been repeatedly removed and reinstated by successive Democratic and Republican presidents since the 1980s and that blocks federal funding to international NGOs that provide termination counseling, referral and legal services and affects issues including HIV, maternal health, population growth and vaccinations. Mr Trump has now cut all funding to the UN Population Fund. According to the Guttmacher Institute, the US has been the single largest funder of international family planning and has helped reach more than 27 million women and couples with access to contraceptives and prevented 6 million unintended pregnancies. Access to family planning services is known to significantly reduce poverty and boost economic growth in countries that need it most.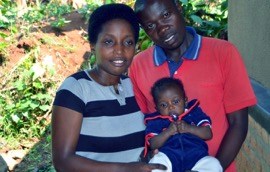 A Family Planning Fund to counter the effects of the gag has raised over USD 200 million, as development leaders said it would not be possible to achieve the SDGs without access to family planning services (photo of young couple family planning in Rwanda). Countries including Sweden, Belgium, Canada, the Netherlands, Finland, Denmark, Australia, Norway and Luxembourg so far have pledged more than $110 million between them to the Fund. Belgium's Minister of Development Cooperation Alexander De Croo said that "We cannot accept that the purely ideological decision of one country…would push millions of women and girls back…We will lead with our actions."
The Bill and Melinda Gates Foundation committed an additional $20 million, an anonymous private donor $50 million and Sir Christopher Hohn, billionaire founder of the Children's Investment Fund Foundation has given a personal donation of $10 million.  Sheryl Sandberg, one of the most powerful and visible women in Silicon Valley has donated $1 million to Planned Parenthood, and last November sold off millions of dollars worth of Facebook stocks to help support women's empowerment organisations.
Following the debacle of the immigration executive orders and the failure to pass the medical bill to replace the Affordable Care Act, attention is being given to alleged links to Russia, the President's denial of climate change, and changes to laws on working conditions. The apparent gas attack in Syria this week highlights an ongoing humanitarian crisis in the Middle East that the world, including Australia has stood by and watched with ineffective intervention. Mr Trump acted this week with the missile attack and is moving towards a collaborative initiative to deal with the al-Assad regime.
World Poverty and Famine.
Among other criteria, UN and food organisations define famine as when more than 30 percent of children younger than five suffer from acute malnutrition, and when mortality rates are two or more deaths per 10,000 people every day. A generation ago, 50 percent of humanity was malnourished, with calamitous famines widely predicted (photo). The UN Food and Agriculture Organization reported in 2015 that malnutrition had declined to the lowest level in human history. Today only 12 percent of the world's population goes hungry with more than 6 billion people eating sufficient meals. Per-capita production of grain, beef, poultry, and dairy is rising faster than population almost everywhere in the world. Taking into account population growth, from 1990 to 2015, the share of humanity that does not live in deep poverty rose from 3.4 billion to 6.5 billion. In the current generation, 3 billion people—most of them in developing nations—have joined the ranks of those who are not impoverished.
However, today the world is facing its largest humanitarian crisis since 1945, with more than 20 million people in four countries in the Middle East and Africa facing starvation and famine. Tens of millions of people are starving in Yemen, South Sudan, Somalia and North Eastern Nigeria, and the devastation from South Sudan's three-year civil war is worse than it has ever been. The UN has called for an immediate injection of funds plus safe and unimpeded access for humanitarian aid to avert a catastrophe, describing the current situation as a critical point in history that will reverse gains in economic development. The CSW outcomes statement reaffirmed that eradicating poverty is the greatest global challenge and an indispensable requirement for development.
Women in Politics.
According to the Women in Politics 2017 Map launched at CSW61 by the Inter-Parliamentary Union and UN Women, the number of women in executive government and in parliament worldwide has stagnated, with only marginal improvements since 2015: the global average of women in national parliaments increased just slightly from 22.6% to 23.3% in 2016, and their participation at the ministerial level now stands at 18.3%.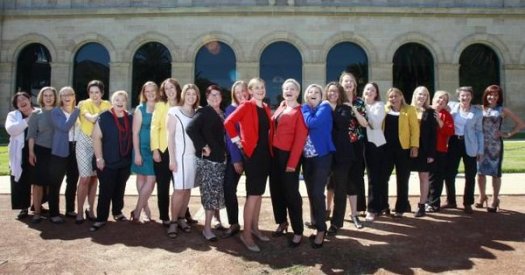 In Western Australia, there is a record 30 women in both houses. The Australian Labour Party (ALP) won a landslide in the March election, with ALP women making up 38.6% of caucus: 15 of the 41 ALP Lower House seats and seven of the 16 ALP seats in the Upper House are held by women (photo). This has almost reached the ALP 40% target, although only five women (29.4 %) have been appointed to the cabinet of 17. There are just four Liberal women and two National women in State Parliament — 17 per cent for Liberals and 22 per cent for Nationals. At the ALP's last national conference the party unanimously agreed to increase its 40% female requirement to 50% by 2025. The party would not do this if it thought it would be disadvantaged by such decisions, or end up with women taking seats over more 'merit worthy' men and risk losing further future elections.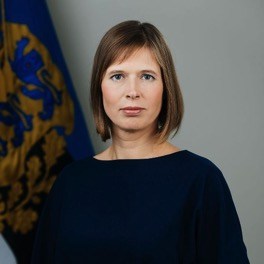 Estonia's parliament has selected a new president who will be the country's first female leader. Kersti Kaljulaid (photo) is a European Union accountant who previously worked at the European court of auditors. Carrie Lam was selected to become Hong Kong's next chief executive. After several months of delay, a new president of Somalia was elected in February. Mohamed Abdullahi Mohamed has a reputation for not being corrupt and is a dual citizen of Somalia and US, with technocratic experience from both countries. Fifteen percent of the parliamentarians are younger than 35 and presumably more responsive to the needs of the Somali people, and 24 percent overall are women. That is not quite the 30 percent that Somali's NGOs and the international community had hoped for, but it is still a significant increase compared with the composition of the previous Parliament. Women's groups have been among the most effective peacemakers and anticorruption activists in Somalia. Challenges include fractious politics and entrenched corruption, a stubborn insurgency and insecurity, and an increasingly challenging external environment. Nadia Ahmed Abdou is the first woman to be appointed governor in Egypt after she was sworn into office as the head of the Nile Delta Governorate of Beheira. She founded the Arab Countries Water Utilities Association and is a member of the general assembly of the World Water Council.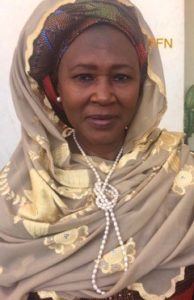 The Gambian President Adama Barrow, a former property developer whose surprise electoral victory prompted the country's first transition of power in more than two decades, has appointed a woman as his vice president. Fatoumatta Tambajang (photo), a prominent pro-democracy activist who was part of the opposition coalition that unseated long time ruler Yahya Jammeh. Ms Tambajang, was a former UN Development Program gender/development expert who served as a cabinet minister of Health, Social Welfare and Women's Affairs in the previous government. There are only five women, 9.4 percent, in the Gambian parliament of 53, and their rank in the world classification is 163 (2012 data). Women's rights campaigners in Jordan believe the country is slowly moving towards more progressive political representation after women MPs won 20 of 130 seats in recent parliamentary elections, compared with 18 out of 150 in the previous parliament. The strong performance of high-profile female MPs in the previous parliament has contributed to the emerging belief in 'women's ability to do good' and effect change. While some have simply been 'mouthpieces' for the tribes they represent, a few have devoted themselves to pressing causes, including the campaign to overturn Article 308 of the Penal Code, which grants rapists clemency if they marry their victims.
Women in the Movies.
As part of Sydney's International Women's Day celebrations, I was delighted to hear actor Geena Davis speak at the Sydney Opera House. She has agreed to be in Ryan Murphy's latest film Feud; he has committed to filling half of Feud's director positions with women, people of color, and members of the LGBT community as part of his recently launched Half Foundation. Murphy has also created nearly 15 roles for women over 40 years of age on the new anthology series, provided women with salary parity, and given both Susan Sarandon and Jessica Lange partial ownership of the show.
The recruitment of black African American women to work as mathematicians at the NASA installation in the south of US, demonstrated in the film Hidden Figures, challenges much of what we think we know about American history.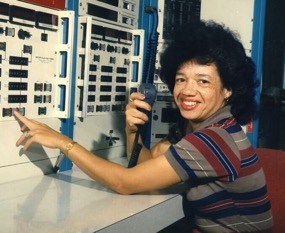 The photo of Dr Christine Darden, aerospace engineer and mathematician in the control room of a NASA wind tunnel, is one of many other women known as the 'coloured computers' who were not highlighted in the film. While the black women are the most hidden of the mathematicians who worked at the National Advisory Committee for Aeronautics, and later at NASA, they were not sitting alone in the shadows: the white women who made up the majority of Langley's computing workforce over the years have hardly been recognised for their contributions to the agency's long-term success. The surprisingly large numbers of black and white women who had been invisible in a profession seen as universally white and male, and the body of work they left behind was a revelation.
Women around the world.
Dame Nemat Shafik, better known by her nickname Minouche, has become the first woman to run the London School of Economics. St Paul's Cathedral in the United Kingdom has appointed its first full-time female chorister in its 1,000-year history. Carris Jones, 35, was unanimously selected to join the choir's alto section after several rounds of auditions by a panel including the cathedral's director of music, organist and team of clergymen. St Paul's musical director Andrew Carwood said Jones stood out because of her powerful and lyrical voice, and he hoped the new appointment would inspire other women to apply in future.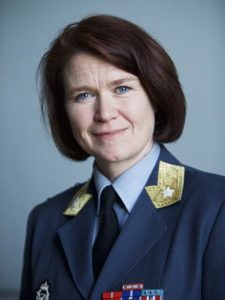 Norway, one of the world's most gender equal nations has announced its first-ever appointment of a woman to head the air force, Tonje Skinnarland, (photo) promoted at the age of 49 to the rank of major general. This comes as the nation's air force undergoes a modernisation drive, with the imminent replacement of a fleet of old F-16 fighter jets with ultra-modern F-35s. After serving for three decades in the army – never as a pilot – her promotion is seen as a new milestone on the road towards gender parity. Since the early 1990s, the Norwegian army has seen women serve as fighter pilots, helicopter pilots and submarine commanders.
Military service has been mandatory for both sexes in Norway since last year, in a unique case for the NATO bloc, but due to a limited number of places, only the most motivated are kept on the force. Nearly one-third of conscripts called last summer were young women, who are often housed in mixed dorms to strengthen cohesion within the force.
President Juan Manuel Santos of Colombia won the 2016 Nobel Peace Prize for his work on a peace agreement that women activists and movements working from the frontlines of local communities had an important role in achieving. Female Nobel prizewinners are still in short supply. As of 2015, just 48 women had been awarded a Nobel Prize, compared with 822 men: women are more likely to take home the Peace Prize — accounting for 16 such awards, followed by 14 for literature, 12 for physiology or medicine, four for chemistry, two for physics and one for economic sciences.
Women in Africa.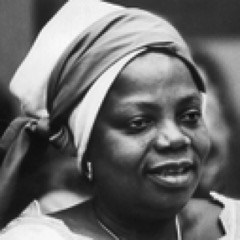 According to the 2016-2017 Global Competitiveness report, Rwanda is the third most competitive economy in Africa and 52nd globally after Mauritius (45) and South Africa (47) and the highest in the world and female in parliamentary representation (64 %). In Nigeria, ImeIme Umana, has made history as the first black woman president and the 131st leader of the Harvard Law Review, a prestigious legal journal in US. (Former US President Barack Obama was the first black person to be elected president in 1990.) The literary world is again mourning following the death at the age of 72 of Florence Onyebuchi 'Buchi' Emecheta (photo), one of Nigeria's renowned literary figures, author of the world-acclaimed novel, Second Class Citizen and whose works included: The Joys of Motherhood, and The Bride Price. She was known for championing the causes of women and girls in her writings, which covered topics including child slavery, child marriage, life as a single mother, abuse of women, female independence and freedom through education, and racism in the UK and elsewhere. "Black women all over the world should re-unite and re-examine the way history has portrayed us," she said.
Women in Australia.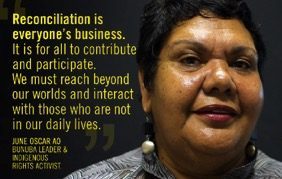 June Oscar is the first Indigenous woman to be appointed ATSI Social Justice Commissioner at the Australian Human Rights Commission. She is a Bunuba woman who is currently chief executive of the Marninwarntikura Women's Resource Centre in Fitzroy Crossing. Oscar has has a long career leading and advocating for Indigenous communities, most notably in helping to fight alcohol-related issues and damage, and playing an instrumental role in initiating the country's first major study in Foetal Alcohol Spectrum Disorder. She was named one of the 50 most influential women in the world in 2011 and later awarded an Officer of the Order of Australia. The Indigenous Australian playwright and actor Leah Purcell has won the Victorian prize for literature for her acclaimed reimagining of Henry Lawson's The Drover's Wife, with a $100,000 prize, Australia's richest single literary award. Purcell was also awarded at the Victorian premier's literary awards, the $25,000 prize for drama for the same play, that premiered as part of the 2016 season for Belvoir Street Theatre in Sydney, and which the panel of judges described as a piece of theatre that "explodes out of the blocks with a moment of stark brutality and never lets up".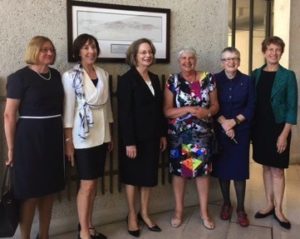 Australia's first female Chief Justice of the High Court, Susan Kiefel, has been sworn in at a ceremony in Canberra, using her speech to reflect on how historic the occasion was for women in law: "It would not be until 1987 that a woman, the Honourable Mary Gaudron, was appointed to this court". Chief Justice Kiefel left school at 15, completing her high school studies part-time while working as a legal secretary. She studied law part-time before being admitted to the Queensland Bar in 1975. In 1987 she became the first woman in Queensland to be appointed Queen's Counsel. Chief Justice Kiefel was welcomed into her new role by Chief Justices of Queensland, Victoria, New Zealand and Australian Capital Territory, and the Senior High Court of Australia Justice (photo).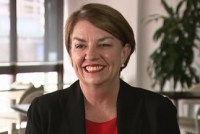 Former Queensland premier Anna Bligh has been appointed the first female CEO of the Australian Bankers' Association (ABA), an industry group representing 25 banks across the country. Ms Bligh, a former Labor MP who was the first woman elected in her own right as a state premier in Australia and Queensland's first female premier between 2007 and 2012, has been the CEO of the Young Women's Christian Association in New South Wales. ABA chairman Andrew Thorburn said Ms Bligh's focus would "firmly be on the culture within banking and lifting respect for our profession and creating a strong vision for customers and on how our industry responds and leads on regulatory reform". Ms Bligh said she is looking forward to leading and shaping a very compelling package of change and reform that will allow the banking industry to restore trust and confidence in a system that is open, fair and transparent. Both Ms Bligh and former Prime Minister Julia Gillard were honoured this year as Companions of the Order of Australia. Julia Gillard said, "When I look back on my career in politics, the overwhelming emotion for me is one of gratitude to the Australian nation…[A place] where you can literally jump off a boat as a four-year-old, as a migrant, and end up as Australia's prime minister — as the first woman to serve." She will replace Jeff Kennett as the chair of the not-for-profit mental health organisation beyond blue.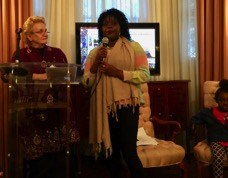 After our intense week at CSW 61 in New York, Professor Jaya Dantas and I spoke at the National Women's Democratic League in Washington DC on Global Voices for Women's Empowerment; ex-student Viviane Furaha (photo) who won the Shirley Randell Award for the best masters student in the first cohort of the Rwandan Center for Gender, Culture and Development and now lives in Washington was able to participate, elaborating on her empowerment. As usual I stayed with friends, Professor Elaine Sarao and Paul Kervin, whom I met first in Rwanda. We went on to Norfolk where we gave a class presentation at the Old Dominion University – Jaya on feminist research methodologies, while I gave examples of some of our Centre graduates masters' theses that used participative research methods. Once again we stayed with long-standing friends from Rwanda days, Professor Anita Fellman and Professor Ed Steinhart.
We then thoroughly spoiled ourselves with a short relaxing holiday in the Bahamas before returning to Australia.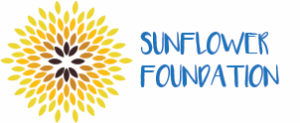 My next speaking engagement is for the Sunflower Foundation Australia. As their patron I will be attending a fabulous evening at their Future Girl Cocktail Party on 29 April at The Point, 10 Aquatic Drive, Albert Park, known for its fine food and wines. So if you are in Melbourne do come along and bring your friends! Enjoy drinks and canapés, seriously talented musicians and bid on fantastic prizes in the live and silent auctions. Future Girl is about creating a future where everyone has the opportunity to thrive.  When girls can enjoy the right to an education, they are more likely to earn a higher income and reinvest that income into supporting their families and contributing to their communities. The proceeds of the event will fund projects at the Riley Orton Foundation's Akili School for Girls and their new Mandaleo Hub for Community Education in Kenya, including entrepreneurship and computer literacy programs, sanitation infrastructure and environmentally sustainable farming and building initiatives. You can book on http://www.sunflowerfoundation.ngo/events.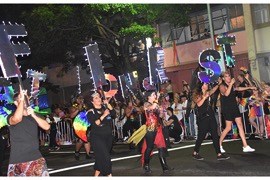 I am back in my small Sydney apartment, centrally located near Hyde Park and enjoy being able to walk to most of my city commitments. From my building's garage floor I was able to watch the 38th Sydney Gay and Lesbian Mardi Gras, a kaleidoscope of diversity, politics, family, community and sexuality, led by a contingent of First Australians (photo) together with veterans of the first protest march in 1978. The theme for this year's parade and festival was Creating Equality. There were 185 floats and more than 12,000 participants, many advocating marriage equality. The Australian Human Rights Commission's float supported the UN Free & Equal campaign.
I keep promising myself shorter newsletters, but so much happens in a month in this world and I know you can pick and choose what is of interest to read.
Blessings of peace
Shirley Randell
'The compensation of growing old [is] that the passions remain as strong as ever, but one has gained – at last! – the power which adds the supreme flavour to existence, – the power of taking hold of experience, of turning it around, slowly, in the light'
Virginia Woolf