University of Rwanda (UR)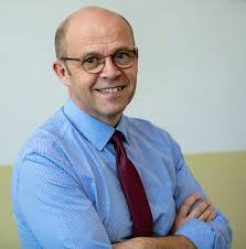 Vice Chancellor (VC) Professor Phil Cotton commended the visits, work and discussions he had had with A/Prof Tim Walker and Prof Brian Kelly.
The VC has a major interest in collaborative work with the University of Newcastle and in particular with the School of Medicine and Public Health in line with UR's needs and interests: medical education especially in health professional programs and aspects of health service development, psychiatry, mental health, research – masters programs and assessment tools.
Another major interest is leadership development for senior academic women, gender studies, women's academic progress at UR, and women in Science, Technology, Engineering, Mathematics and Medicine (STEMM). The VC again raised the issue we had discussed on my previous visits – mentoring of senior UR women staff through connections by Skype etc with senior women staff at UoN, especially administrative policies and procedures.
The VC continues to be concerned about the lack of women in the management of UR, the challenges preventing women from enrolling in courses and putting themselves forward for consideration for promotion, and stressed the need for research into these issues
The VC mentioned the opportunity the Commonwealth Heads of Governments and Commonwealth Women Ministers meetings to be held in Kigali this year would bring to Rwanda. He had in mind using staff and UR Alumni – recently formed – and dedicating every month to a different aspect of women's issues.
We talked about the interest of Rwandans in both Masters and PhD studies at UoN – the loss of Ambassador Christine Umutoni and Jane Umutoni who failed to win PhD scholarships at UoN and have now enrolled with scholarshipd in universities in South Africa and Sweden respectively. Also the efforts of Emmanuel Mukarukumbuzi (photo) for whom UoN had been unable to locate a suitable First Nations supervisor for his preferred topic, but who is still interested in a scholarship opportunity. The VC had had dinner with Emmanuel and Prof Kelly during their visits and is aware of the efforts of Prof Sidsel Grimsted and me to work with him to find relevant supervisors for his new topic related to media and communication studies.
The serious financial issues the VC had discussed with me on a previous visit have been resolved with President Kagame meeting his promise to deal with UR's outstanding debt. They have an excellent working relationship.
This time the VC was sympathetic about the creation of a Memorandum of Understanding between the two universities focusing particularly on UR interests where UoN has the capacity to collaborate. He will be initiating an approach conforming with UR practice from his legal department to UON..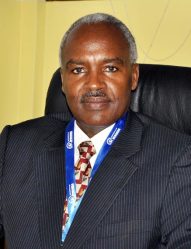 Deputy Vice Chancellor Institutional Advancement Ambassador Charles Murigande advised that there has now been government approval for a UR Solidarity and Development Fund. Overseas donations for the Shirley Randell Scholarship for a master's degree at the Centre for Gender Studies (CGS) could now be placed with URSDF and transferred. Subsequently a donation of USD1000 has been made from Globalshare Foundation and the DVC has given assurance that "the money shall be used for the purpose for which it will be given, i.e sponsoring a master's student in Gender Studies. We shall report to the Globalshare Foundation the exact amount of money received in our account and how it will be disbursed in favour of the selected student." DVC referred me to Sam Sibomana, the officer who is handling URSDF. Sam passed on draft documents on URSDF and he and I discussed with Sylvie Nsanga next steps. It will be important for them to work with Dr Jeannette Bayisenge, Director of CGS to develop appropriate selection criteria so a student can be awarded a scholarship for the next semester..
Deputy Vice Chancellor Academic Affairs and Research Professor Nelson Ijumba reinforced the VC's priorities and particularly a possible research project related to women academics. He considered it could be possible for the next Shirley Randell Scholar at CGS to do research into the university's need to investigate the enrolment of women, their applications for advancement in the academy, and participation in leadership. He again expressed appreciation for the commitment of A/Prof Tim Walker and Prof Brian Kelly to UoN collaboration in health education..
Deputy Vice Chancellor Administration Dr Papias Malimba Musafiri and DVC Finance Francoise Kayitare Tengera were absent. I left messages about the continued failure of UR to follow up on a well overdue payment to me for personal funds advanced for a CGS research study for the Forum for African Women Educationalists (FAWE) project and publication on child friendly schools. Before I left Rwanda, I had a brief conversation with Professor George Njoroge, Principal of UR's College of Education who is aware of the research and KIE's commitment to transferring the grant funds to me to cover my approved advance to complete the FAWE project within tight deadlines. He has now been tasked with dealing with this issue.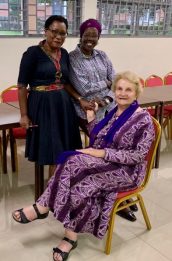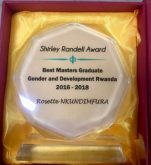 Director UR's Centre for Gender Studies Jeannette Bayisenge and Lecturer and CGS inaugural graduate Jane Umutoni organised another ceremony for staff and students to present the Shirley Randell Award for Excellence to Nkundimfura Rosette (78%) in the Seventh Cohort (2016-18) and Bezanesh Bekure Yehwalawork (83%) in the Eighth Cohort (2017-19). The Director will work with staff in UR's Institutional Advancement to develop appropriate selection criteria for the award of a Shirley Randell Scholarship student for the next cohort.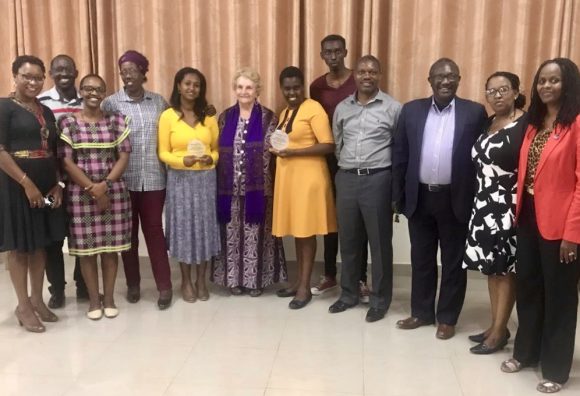 Christian University of Rwanda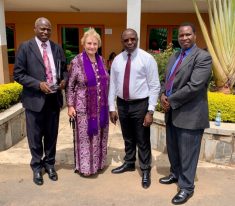 I met with Hon Dr Pierre Damien Habumuremyi and incoming VC Dr Aloys Ruzibiza about the progress being made at CHUR since my last visit. There are two campuses – in Kigali and Karongi and five faculties,
.
Professor Novembrieta had organised a program for me, as Ambassador for CHUR, to address staff and students at the Kigali campus on Making a Better World: Advancing the Status of Women Worldwide, followed by a Q&A session and an open forum..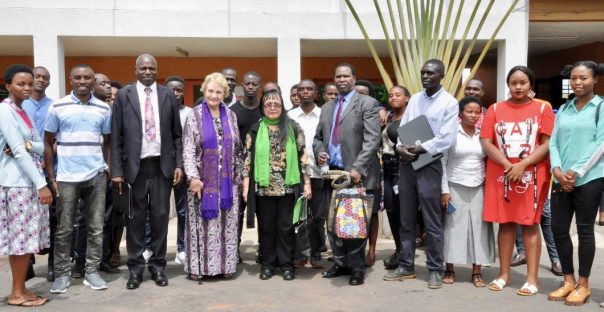 Dr Matthias Twahirwa tasked me to follow up in Australia the possibility of collaboration with Overseas Council Australia in order to see if they can support CHUR's Faculty of Arts, Humanities and Social Science in their progress towards establishing the School of Theology and Divinity under this faculty. I am pursuing this request .
Akilah Institute for Women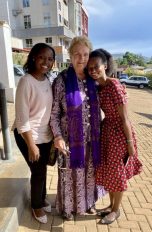 Aline Kabanga Country Director and Nadine Niyitegeka Global Ambassador welcomed me and discussed some of the amazing developments of the Institute before I spoke with the newly elected Student Council president and then addressed the senior graduating students. Akilah is celebrating 10 years of educating women and has grown from the 50 students enrolled in 2009 when I was a member of the early management committee to more than 2,000 students and alumnae. It is now an institute of the Davis College global network of universities. Graduates so far have launched careers in finance, clean energy, eco-tourism, agribusiness, conservation, technology and 304 more students who graduated in 2019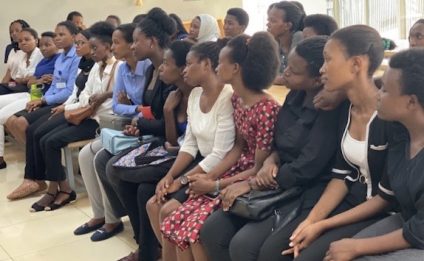 Club Rafiki
Tony Omar organised for me to speak to the Our Girls Program participants and organised an assembly where the English corner featured and hip-hop dancing, the modelling sand music students performed, and the leaders of each activity reported on their progress. The IT teacher reported on the computer programs and welcomed the donation of computers from Sustainable Health Enterprises which has handed over its sanitary pads business to the Department of Education. A separate report and video of this visit is available.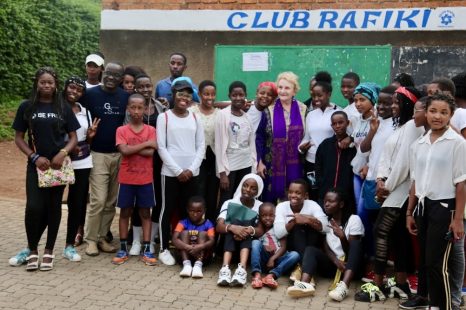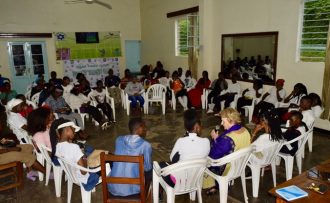 .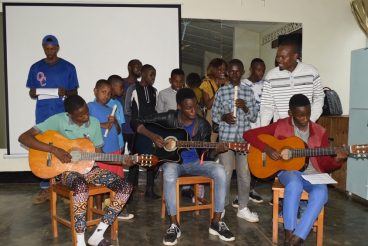 Nyamirambo Women's Centre (NWC)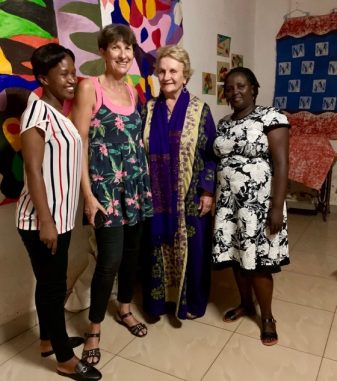 By great good fortune my friend, Vlasta Jalusic from the Slovenia Peace Institute, the initial sponsor with whom RAUW and I worked 12 years ago to support the activities of 18 Rwandese women living in Nyamirambo, Kigali. Together they created a project which aimed to address gender-based violence, gender inequality and discrimination. Today, NWC's mission is to provide education and vocational training for women who do not have the means to pay for such training on their own, so that they can gain better opportunities for employment. At the end of 2013 NWC launched the product line Umutima, which means heart in Kinyarwanda. .
With this project, NWC trains and employs women from the community to create a large variety of high quality women's accessories, children's clothing, and home decor products. There are now over 50 women employed by Umutima as seamsters. Umutima and NWC have grown into a unique, self-sustaining model where the profits earned through Umutima are used to fund NWC initiatives, in addition to providing benefits and a fair wage to the seamsters. Vlasta was in Kigali to run an arts workshop with the now thriving organisation established on the main road going through the township, and we had a lovely meal together and later met with Marie Aimée Umugeni, the President of the Centre . .
African Development Bank Global Gender Summit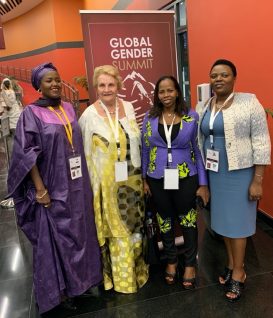 I met several inaugural graduates of the Centre for Gender Studies at the African Development Bank Global Gender Summit, many in very senior positions, working on the African continent and overseas. On the left is Shamsi Kazimbaye, Senior Program Officer at Promundo-US. She coordinates technical assistance to the Young Men's Clubs Against Violence project in Kinshasa, Democratic of Congo with the Living Peace Institute and leads technical assistance to projects in East and Central Africa. Next to me is Egidia Rukundo, Senior Gender specialist at the African Development Bank in Cote D'Avoire, and on the right Francoise Umuwukiza, member of the Legislature of the East African Government.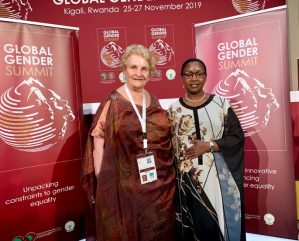 I was sponsored by Women on Boards in Australia to attend the Gender Summit and am preparing a full report of this significant event and on the major decisions to which all member countries are committed. Here I am posting some photos. It was wonderful to meet so many of my former colleagues from SNV Rwanda, CGS, the education sector and parliamentarians. I spoke briefly with the Ministers for Gender and Family Promotion, Education and Sport, often before or after seminars they spoke at or at dinner receptions, this one for President Kagame.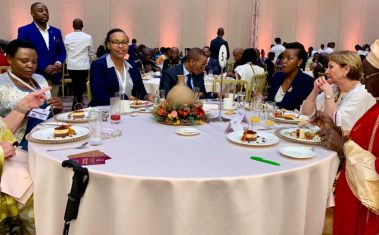 .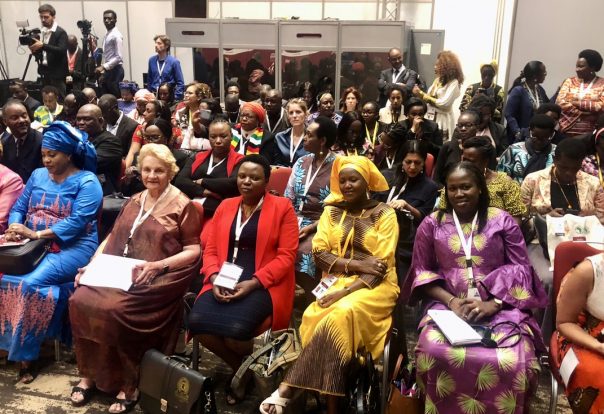 Rwanda Association of University Women
Sylvie Nsanga, my host in Rwanda had worked tirelessly with me to organise my program of visits and also the RAUW Council meeting where I was pleased to hear of promising developments with the association. I reported on the Graduate Women International 100th Anniversary Conference and Centenary Celebration in Geneva; the Federation of University Women of Africa's election of leaders for the next triennium; and the re-organisation of graduate women in Australia. The new Australian Graduate Women association is continuing international links, and four state associations are concentrating on state activities within Australia.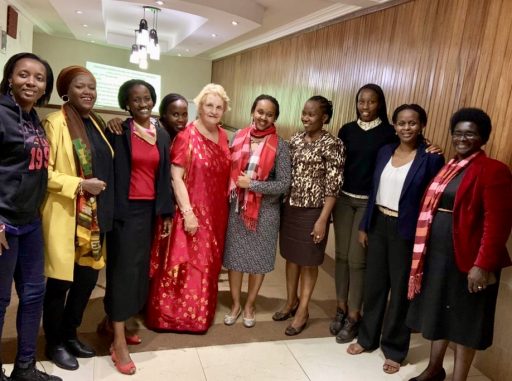 A very special privilege was to attend a birthday celebration with Sylvie's family